Jennifer Lopez Drops The F-Bomb On 'American Idol'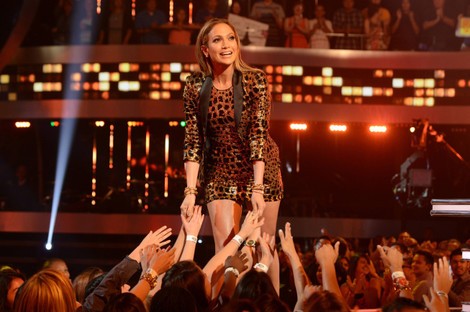 Jennifer Lopez stunned viewers on "American Idol" on Wednesday night when she cursed at her fellow judges Harry Connick, Jr. and Keith Urban while critiquing a contestant.
 
Lopez was praising contestant Jena Irene for her performance and encouraging her to be more spontaneous on stage when Connick and Urban began jokingly attempting to persuade Lopez to demonstrate a "hair flip."
"Hair flip! Hair flip!" Connick chanted, the audience joined in the goading, and Lopez either said "f**k you" or "f**k off." Producers quickly moved the camera away from Lopez to censor the moment, and she was clearly embarrassed by it.
"That's Jenny from the block!" Connick said, but the singer/actress composed herself and continued critiquing Irene.
Last week, the pop superstar performed "I Luh Ya Papi" for the first time on "American Idol" and recently battled a bout of bronchitis.