Jennifer Lopez Defends Revealing TV Performance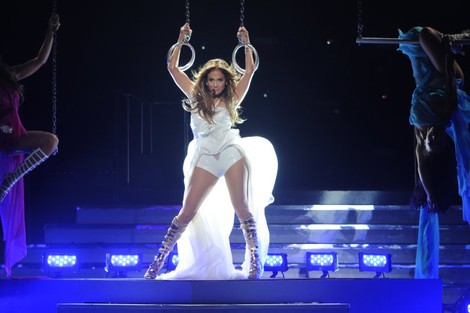 Jennifer Lopez has defended herself after hundreds of British TV viewers called in to complain about her revealing outfit during a televised performance.
The pop star wore thigh-high leather boots and a revealing black leotard that showed off the majority of her butt while she performance "Live It Up" on "Britain's Got Talent."
Users took to Twitter to bash Lopez for her outfit, and British television regulator Ofcom has received over 100 complains about the telecast.
Lopez took on the complaints during an interview with BBC Radio One Thursday, pointing out she wore the same outfit, but in red, during the Billboard Awards two weeks ago.
She says, "I think people are so much raunchier than I am - I feel like I'm so tame. No one complained at the Billboard Awards. I think people just like to talk. It was a body suit. A lot of performers wear that these days. I'm not going to walk down the street like that! I wore is at Billboard and Britain's Got Talent said they wanted exactly the same."
Watch her performance below and let us know what you think!