Jennifer Lopez Considered Adoption After Making The Movie 'What To Expect When You're Expecting'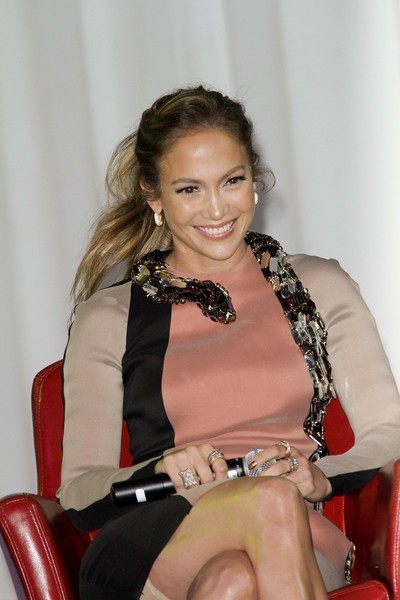 The new romantic comedy What to Expect When You're Expecting tells several interweaving stories of mothers to be. Jennifer Lopez plays a woman in the process of adopting an Ethiopian baby. Though Lopez gave birth to twins herself, she said the film made her consider adoption.
"It's funny because before the movie, I never really thought about adoption at all," Lopez said. "I just always wanted to have my own baby and I was so focused on that, it took me awhile to have my own.  But after the film and during the making of the film when I held those two little Ethiopian twins, I fell in love instantly and it really occurred to me, I can see how somebody can do this, how it is so easy to embrace a child who has nothing.  It's a really a beautiful selfless act of love, and it's something that you go, okay, I understand these feelings, I get this, I know how this happens."
In movies, babies are usually played by twins because each infant can only work for a short time. Lopez fell in love with bother her adopted babies in the film.
"I almost took that baby home, both of them," she said. "I fell in love with those babies, they were twins actually, but the one in the scene had a particular little thing there, he was just so lovable and I said, it really made me understand how you can take a baby home and make it your own and make it part of your family and raise it and love it as if it were your own."
The real life story of the Ethiopian twins is heartwarming enough to be a movie itself. "They are two Ethiopian twins, their parents went over, they had adopted before and they wanted to adopt a girl and they went over there and these two little twin boys were literally days old I believe, and they were very ill, very, very ill, super skinny. I saw pictures and everything, they showed us pictures and eight months later they were in a movie with us. The mother died in childbirth and the dad kind of got scared and they had a little bit of a rough beginning. These parents went over there and fell in love with them as well and brought them back. Even though they were looking for one little girl they came back with two little boys, and it was just beautiful."
What to Expect When You're Expecting opens Friday.