Jennifer Lopez Buys Boyfriend Casper Smart A Truck For 25th Birthday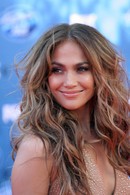 Jennifer Lopez made sure her boyfriend's 25th birthday was one to remember by surprising him with a brand new truck.

The singer/actress celebrated Casper Smart's milestone by throwing him an intimate dinner party at Cecconi's in Los Angeles on Friday.

However, the highlight of his big day came when Lopez handed him the keys to a customized white Dodge Ram truck.

An insider tells People.com, "Jennifer had planned a fun day to celebrate Casper's birthday. (She) knew that Casper really wanted a truck, and Casper was very excited about the generous gift. Casper was so excited about his new truck that he decided to drive it to dinner. She was smiling about Casper's excitement."

Lopez also sent the dancer her best wishes in a Twitter.com message, writing, "Beau has a birthday we're so glad, we hope it's the happiest Birthday Beau ever has! Happy birthday bear!!!"