Jennifer Lawrence Tops People Magazine's 'Most Intriguing' List For 2013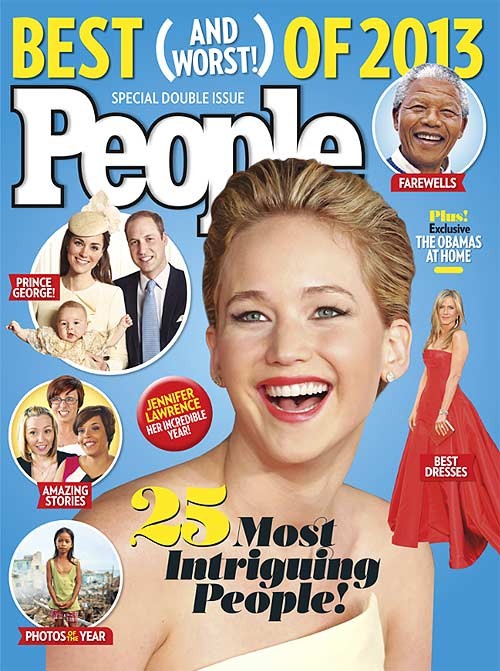 Along with breakout stars and a bouncing baby royal, the year delivered heroic achievements, an inspirational new Pope, and plenty of scandals. PEOPLE magazine celebrates the biggest pop culture moments in a 47-page special year-end section featuring the "25 Most Intriguing People of 2013."

Jennifer Lawrence: Way back in March - before The Hunger Games: Catching Fire became a blockbuster and before her haircut became international news - the 23-year-old nabbed her first Oscar. Now, thanks to the buzz she's getting for her role in American Hustle, Lawrence might get the chance to claim another Oscar in 2013 (this time without tripping perhaps). "It just doesn't register," Lawrence has said of her success. "No matter what happens, it just doesn't register."

At Home with the Obamas: Sitting down for their annual interview with PEOPLE, the President and Mrs. Obama reflect on the year's difficulties, both in the political arena and the smaller challenges he encounters at home. "I've got three opinionated, strong, tall women," says President Barack Obama. "If they get together, they can have fun about my ears or being too loud, or how I dress." If you eavesdropped on a typical day at the White House, it might sound a lot like any home with young teens. The Obamas reveal that daughters Sasha, 12, and Malia, 15, weigh in on Mom's fashion choices and have tutored Dad in using Instagram and Vine. And, like any kids, they are occasionally embarrassed by their parents. "Malia had friends over, and there was a question about whether she was going to even introduce them [to her dad], because sometimes he gets a little formal, asking them about school and interests," the First Lady tells PEOPLE. "She says, 'I don't know if my friends can handle that.'"

Prince George, The Future King: Five months after a 62-gun salute heralded his arrival at London's St. Mary's Hospital on July 22, the little prince with the big lungs is poised to celebrate his first Christmas with smiles, coos, and maybe even a babble.

Miley Cyrus vs. Justin Bieber, Growing Up Absurd: She turned 21 and he hit 19, but each had their own take on how to preen like a post-teen with signature poses, A-list exes, what they abandoned, and what they shouldn't have done.

Hall of Shame: From Mayor of Toronto Rob Ford refusing to resign after his staunch denial of having smoked crack - then finally admitting he had - to ex-Congressman Anthony Weiner, who was plagued by yet another sexting scandal and lost his campaign to become mayor of New York City, PEOPLE reviews the year's lowlights in the Hall of Shame.

Feuds: The Jonas Brothers' family squabbles cause them to abandon a tour, Sinead O'Connor writes a scathing open letter to Miley Cyrus, while Kirstie Alley calls ex-Church of Scientology follower Leah Remini a "bigot" - check out the biggest celebrity feuds of 2013!

Weddings: Many celebs said their "I do's" this year: Kelly Clarkson & Brandon Blackstock, Kristin Cavallari & Jay Cutler, Halle Berry & Olivier Martinez, and 14 more happy Couples of the Year who tied the knot.

Babies: Plus, many new lives entered the world in 2013. The Babies of the Year include Jessica Simpson's son Ace Knute, Kim Kardashian & Kanye West's daughter North, and five other celebrity bundles of joy.

Splits: From Miranda Kerr & Orlando Bloom to George Clooney & Stacy Keibler, PEOPLE looks back at the year's big breakups, which includes these and five other couples who ended their relationships in 2013.

A Year in Pictures: Includes a collection of some of 2013's most memorable photos - terror in Boston, devastation in Oklahoma, an Olympian on trial, and a pint-size superhero.

Tributes: PEOPLE remembers the heroes, the Hollywood legends, and other luminaries who passed away in 2013, with friends and family sharing memories. Sidney Poitier remembers South Africa's first black president, Nelson Mandela. "We are just beginning to see the complete totality of the man" he tells PEOPLE. "I was so privileged to portray him. He was a special man." Tony Sirico calls his Sopranos' co-star James Gandolfini "my best friend. He taught me so many things in life, including acting." And Mark Linn-Baker, who co-starred with Peter O'Toole in the 1982 comedy My Favorite Year, tells PEOPLE, "He did not want to live a complacent life. He wanted to stir things up. And I think he did that for his entire life." Read these and 21 other Hollywood tributes.


For more on PEOPLE's picks for Best Movies, TV Shows, Music and Books of 2013, pick up the December 30th special double issue, on newsstands now.


*Also in this week's PEOPLE:*
Khloe Kardashian On Life After Lamar: "She Wants To Move On"
Juan Pablo Galavis: Meet The New Bachelor - "I Took A Risk"
Ben Stiller: One Last Thing - "I'm Not Someone Who Is Good At Dancing"