Jennifer Lawrence To Host 'Saturday Night Live' This Week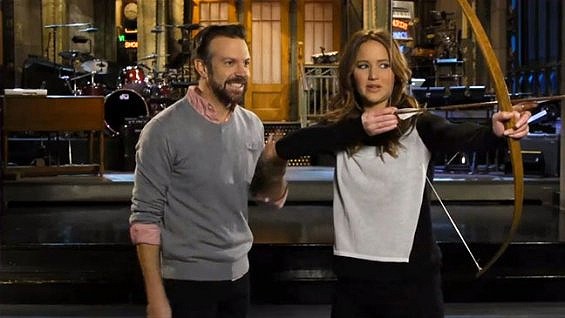 Hot off her Best Actress Golden Globes win Jennifer Lawrence is set to host Saturday Night Live this weekend.

The Silver Linings Playbook star will be joined by musical guest The Lumineers, whose single "Ho Hey" was featured in her Oscar-nominated film.

Jennifer was joined by SNL regular Jason Sudeikis for her promo spot, which poked fun at her Globes win, Silver Linings co-star Bradley Cooper, and The Hunger Games.

Sudeikis gets the clip rolling by opening an envelope and saying, "...And the winner, and host of this week's SNL with The Lumineers is... I knew it -- Jennifer Lawrence!"

"First a Golden Globe -- now this!" Lawrence exclaims before the music prematurely starts playing her off.

Sudeikis also gets her to pick up a bow-and-arrow and shoot an apple off fellow castmate Bobby Moynihan's head. That doesn't end up too good though.

It's a good bet "J. Law's" SNL gig will poke fun at the two movies, along with her Globes acceptance speech, when she said, "Look what it says, 'I beat Meryl [Streep]'".

The quote caused controversy and Jennifer had to clear it up afterward, explaining that she was quoting the film First Wives Club, in which Bette Midler's character says it.

Even Lindsay Lohan flipped out about it on Twitter, not knowing the quote was from a movie.

Next week The Voice star & Maroon 5 frontman Adam Levine will host the show.

Watch SNL this Saturday, January 16 with Jennifer Lawrence and the Lumineers.