Jennifer Lawrence: 'People Are Going To Get Sick Of Me...I'm Way Too Annoying'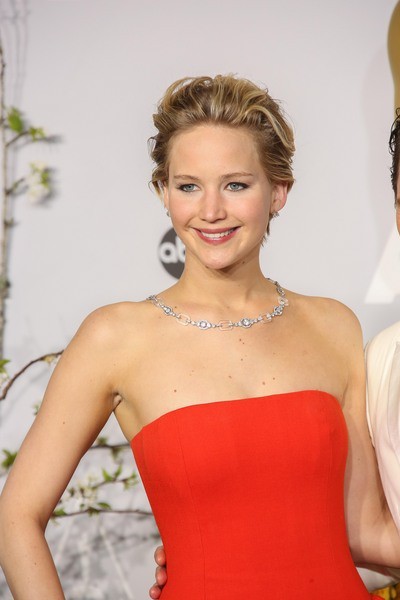 Jennifer Lawrence doesn't think she'll be popular forever and fears fans will get "sick" of her after starring roles in films such as "The Hunger Games" and the "X-Men" franchises.
In a new interview with Marie Claire magazine she explains: "Nobody can stay beloved forever. People are going to get sick of me."
The 23-year-old added: "I'm way too annoying because I get on red carpets and I'm really hyper, most likely because I've been drinking, and I can't not photo-bomb somebody if it's a good opportunity."
Lawrence is attempting to control her behavior when she's in the public eye. "It's something I always tell myself, 'You need to calm the f**k down. You don't want to constantly be a GIF,'" she said.
During an Oscars after party hosted by Madonna, the actress threw up in front of Miley Cyrus after she and her best friend, Laura Simpson, got "wasted."
Lawrence talked about the incident during a taping of an upcoming episode of NBC's "Late Night With Seth Meyers." An audience member who attended the taping reported: "Jen said she was so drunk, she puked on the stairs at Madonna's after-party, and Miley walked by and said something like, 'Get it together, girl!' "
It isn't the first time Lawrence has made a spectacle of herself in a public venue. She reportedly got "trashed" at a pre-Golden Globes party held at the Beverly Hills Hotel in January.
The following night, when she accepted an award for "American Hustle," she told the audience: "I need to catch up on my drinking. I think that's why I was so manic. I normally have time to have a glass of wine."