Jennifer Lawrence Moved To Tears By Scarred 'Hunger Games' Extra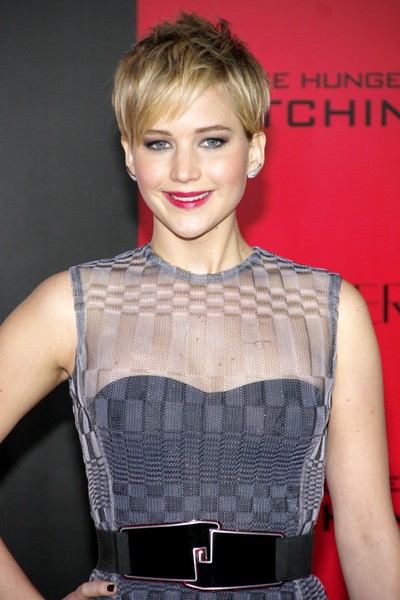 Jennifer Lawrence is up for her second turn as Katniss Everdeen in The Hunger Games saga, Catching Fire. As Katniss becomes an inspiration for a rebellion, Lawrence reflected on her own opportunity to make a difference to young viewers. Even making the first film, she saw firsthand the difference a heroine like Katniss could make. 
"I remember on the first movie I met a girl who was an extra and she was covered in scars," Lawrence said at a press conference for Catching Fire. "She had been burned and I remember her coming up to me and saying that she was self-conscious to go to school when she was younger. Then when she read The Hunger Games and Catching Fire she felt proud of her scars and her friends called her The Girl on Fire."
The Girl on Fire is Katniss's nickname because she wears flaming dresses in the leadup to the violent battle. Lawrence teared up as she recalled the girl. "I still can't tell that story without tearing up. I remember I was calling my mom and being like, 'I get it.' I remember reading that in the third book when she goes to the hospital and sometimes it can seem so pointless because you're so filled with that hair and makeup and clothes and sometimes just the lives that you can touch takes over."
Lawrence does wish to continue promoting good and positive messages, but is happier when they come out of the blue like the girl on the set. "I don't really have any plans. Sometimes it comes up and bites me in the ass and it's great. I like doing it that way. It changes sometimes because there are so many wonderful things that can come from this, when you have a voice, saying the right things. A simple one is it's so easy to raise money for charity. It takes me 10 minutes to sign 100 posters that can raise 1000s of dollars for charity and that's so simple. Honestly, sometimes it surprises me. I remember being on the first movie and when you're an actor, you don't ever think, or I hope that you don't, I don't ever think that my job is very important, what I do is very important for the world and for people. I just love doing it."
Catching Fire opens Friday.
Click through for photos from 'The Hunger Games: Catching Fire' Los Angeles Premiere