Jennifer Lawrence & Liam Hemsworth Nearly Caught Fire While Promoting 'Catching Fire' In Cannes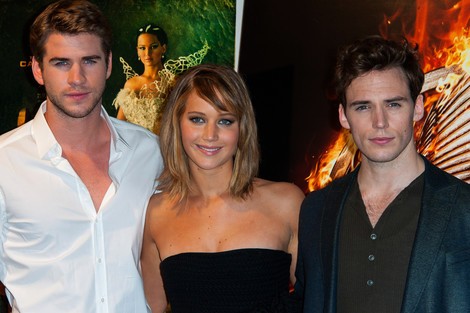 During the Cannes Film Festival over the weekend, Jennifer Lawrence and her "The Hunger Games: Catching Fire" co-star Liam Hemsworth nearly caught on fire after a tray of candles fell on them at a party.
According to JustJared.com, the stars attended a bash in honor of the film, and a huge column holding a plate of lit candles toppled over and almost hit Lawrence on the head.
A source explained: "(They) were sitting on a sofa in the VIP section of the party when all of a sudden, an 8-foot column with a platter of candles on top fell on top of them.
"They both jumped up when it happened and thankfully no one was hurt. Liam and Jennifer both seemed pretty calm about it and laughed it off."
The film follows Katniss as she returns home after winning the 74th Annual Hunger Games along with fellow tribute Peeta Mellark. As they embark on a "Victor's Tour" of the districts, they discover a rebellion is brewing. However, the Capitol is still very much in control as everyone prepares for the 75th Annual Hunger Games (The Quarter Quell).
"The Hunger Games: Catching Fire" hits theaters on Nov. 23.