Jennifer Lawrence Is Naked And Blue In New 'X-Men' Photo By Director Bryan Singer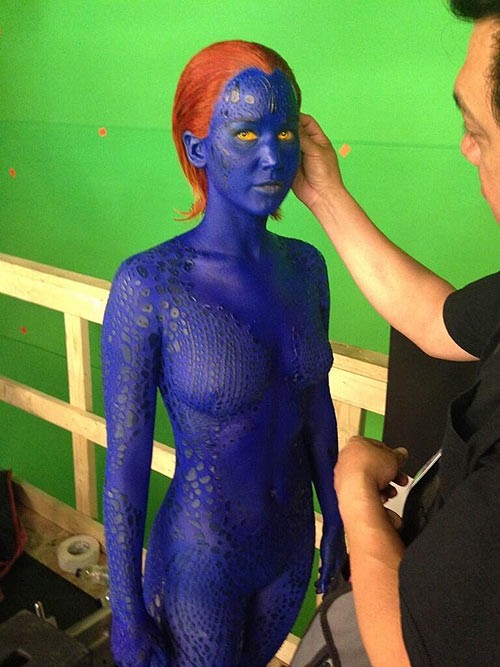 Jennifer Lawrence was photographed on the Montreal set of X-Men: Days of Future Past by Bryan Singer on Monday wearing her new Mystique costume.

Singer posted the image to his Twitter page with the message, "First look: #JenniferLawrence as a vengeful #Mystique. #XMen #DaysOfFuturePast."

The 22-year-old star was spared the eight-hours it took to get into costume for the last film in the series, X-Men: First Class, which she said gave her an allergic reaction.

"I'm so excited because I'm going to wear a body suit," she recently told EOnline.com. "It will be from [the] neck down so it will cut out time and the blisters."

A doctor had to be retained on the set of the last film to tend to Jennifer's skin issues because of the paint.

The film's costume department did such a great job on the new outfit that it's difficult to tell whether Lawrence is wearing the new suit or the old paint in Singer's photo.

Lawrence reprised Rebecca Romijn's role of the shape-shifting Raven, aka Mystique, in First Class, the prequel to 2000's "X-Men."

"X-Men: Days of Future Past" is expected sometime in 2014.