Jennifer Lawrence Is Golden & Miley Cyrus Shows Some Skin At 'Hunger Games' Premiere (Photos)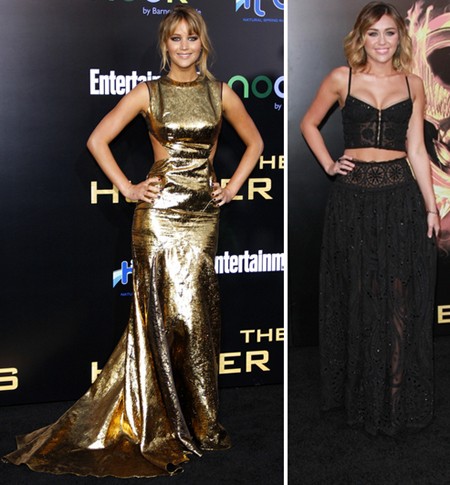 The new generation of Hollywood showed up to "The Hunger Games" Los Angeles premiere yesterday. Jennifer Lawrence dominated the red carpet in a striking gold floor-length gown while Miley Cyrus wore a black belly baring skirt and bustier-like ensemble.
"The Hunger Games" is the new "Twilight" for young fans. Based on a popular young-adult novel, the film centers on 16-year-old Katniss Everdeen (Lawrence), who must compete in a televised tournament in which 24 teenagers from a post-apocalyptic society fight to the death. The movie hits theaters March 23.
Fun fact: Lawrence gave co-star Josh Hutcherson a concussion after kicking him in the temple when the cameras weren't rolling. The actor explained, "She felt so bad. She was crying. I've had a couple of concussions before so I knew what it feels like when it happens. We had to have a neurologist come in."
Check out more photos from the premiere...