Jennifer Lawrence: 'I Want To Be Bridget Jones'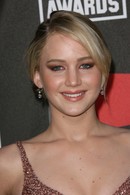 Jennifer Lawrence wishes the Bridget Jones movies were never made - because she's desperate to play the beloved British singleton instead of Renee Zellweger.

The Texan actress piled on the pounds and perfected an English accent to play the hapless TV presenter looking for love in two hit movies, and she's gearing up to star in a third installment.

And despite Zellweger monopolizing the part, Lawrence has branded it her dream job - and reveals the film is her go-to movie when she feels down.

She tells Interview magazine, "I have always wanted to play Bridget Jones. I want the movies to not exist so that I can do that. That's the movie I put on when I am homesick, although England is not my home."

"When you're feeling 'bleh' and you want a movie that you're never bored of watching, Bridget Jones is that for me so it's natural to say that I want to be Bridget Jones."

"But I never wanted to replace Renee Zellweger."