Jennifer Hudson's New Body: From Size 16 To 6!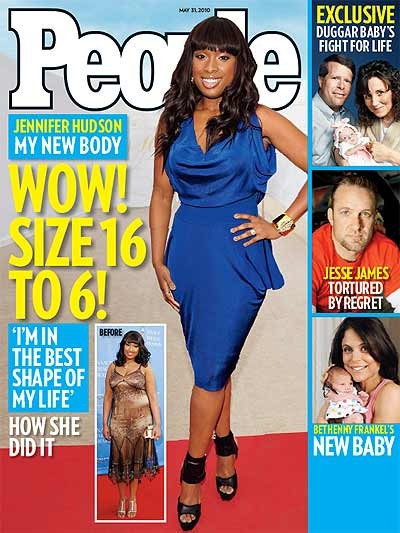 Inspired to lose weight after signing up to play the title role of Winnie Mandela in a biopic back in November, the former size 16 Jennifer Hudson tells PEOPLE that she is "so happy" to show off her newly toned size 6 body at the Cannes International Film Festival this month. "I'm in the best shape of my life!" says the one-time American Idol contestant turned actress. Winnie director Darrell James Roodt, who asked Hudson three times to lose weight before filming began, says she "is feeling really good about herself, and that's what matters."

Hudson, 28, who famously gained more than 20 pounds for her Oscar-winning big-screen debut in 2006's "Dreamgirls," tells PEOPLE that she did not resort to extreme measures to shed the weight. "Whatever it takes to morph into the character, I'll do it," she explains. But "I wasn't going to starve myself for anyone." Instead Hudson joined forces with L.A.-based trainer Harley Pasternak in the fall. In January she also signed up to become the celebrity spokesperson for Weight Watchers. Since then, "she keeps getting tighter and thinner," Pasternak tells PEOPLE. "It started off being about Winnie, and it ended up being a whole new JHud."

Her transformation started with a new approach to food. Hudson once said, "I don't believe in short-cuts or drugs. If I can't lose weight naturally, then no need for me to try at all." At one time, she often would eat only grilled chicken and egg whites until she got bored and fell off the weight-loss wagon. "I've done a lot of diets in the past," she admits. "I was restricting myself."

Now she's learned how to eat in moderation and enjoy smaller portions of her favorite foods like pizza and sushi. "She was very afraid of carbs," says her Weight Watchers counselor Liz Josefsberg, who taught Hudson how to measure her servings with a food scale. "Jennifer fully understands that there are no off-limits indulgences as long as they are portion-controlled," she adds. Now, Hudson says, "I don't get hungry. I just eat right."

She also consistently breaks a sweat. Just four days after giving birth to David Jr. last August (Dad is WWE wrestler David Otunga, 30), the new mom started walking for 30 minutes each day before amping up her work-out to Pasternak's five-day, 25-minute circuit training regimen. "I'm a cardio maniac!" Hudson says.

Even though her weight has fluctuated for personal and professional reasons since she became famous, Hudson's self-esteem has always remained the same. "Confidence is everything. I just don't let people impose their insecurities on me," she says. Still, there are days Hudson doubts that she can really fit into her new size 6 wardrobe. "In my head, I am still the same weight I was before," she admits. "It takes a while to get used to it." Luckily, she has plenty of time to adapt to her new reflection in the mirror.

"This is the way I want to be," she says, "and the way I want to stay!"

"In My Head, I Am Still the Same Weight I Was Before," She Admits to PEOPLE

"It Takes a While to Get Used To It"

**Also In This Week's 'PEOPLE'**

-Exclusive Duggar Baby's Fight For Life: "This Is Like Surviving A Hurricane," Says Jim Bob (Page 80)
-Jesse James Tortured By Regret: "He Hasn't Given Up Hope That He Can Fix Things," Says Source

Also this week, a 'PEOPLE' Special Collector's Edition: Twilight Special: The Stars Of Eclipse

Exclusive Interviews, 145 Fabulous Photos, and Behind-the-Scenes Scoop

PEOPLE publishes a special newsstand-only issue this week entirely devoted to one of the year's most anticipated movies - "The Twilight Saga: Eclipse." "Twilight" fever is getting ready to spread across the land once again as the saga's third installment, "Eclipse," debuts in movie theaters June 30.

To celebrate the blockbuster success of the vampire epic, the editors at PEOPLE have created this special issue, packed with exclusive interviews, fun photos and scoop on the film's megastars: Robert Pattinson, Kristen Stewart and Taylor Lautner. "Other than having bodyguards around, I don't think much has changed since we shot 'Twilight,'" says Peter Facinelli of his "Eclipse" costars. "Their personalities and their egos have not gotten any bigger. On the set they're very professional."

Plus: Rob and Taylor aren't the only desirable Eclipse men. "The Hot Guys of Eclipse" special section gives a nod to the movie's sexiest supporting actors including 25-year-old Kellan Lutz, who leads the pack. Also, meet the nine newbies who've joined the "Eclipse" cast, including Bryce Dallas Howard as Victoria (replacing Rachelle Lefevre) - the fiery nemesis who creates a band of newborn bloodsuckers to hunt down Bella. "She's such a good actress, it was easy to be scared of her," says Stewart. But "she's really sweet as well." During her downtime on the set, the 29-year-old Howard toured Vancouver with her husband, actor Seth Gabel, and their son, Theo, 3.

And for fans who still can't decide whether they support Team Edward or Team Jacob, PEOPLE offers two collectible covers: one featuring Pattinson and the other, Lautner.

PEOPLE's Eclipse special issue is available on newsstands from Friday, May 21 - Monday, June 21.

Get the new issue of PEOPLE, on newsstands everywhere May 21st!
Click for more great Jennifer Hudson pictures: