Jennifer Grey To Judge Dancers For Len Goodman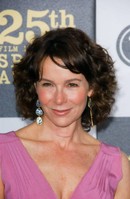 Dirty Dancing star Jennifer Grey is set to bring her waltzing expertise to British TV show Strictly Come Dancing by joining the judging panel for one week only.

The actress, who played Frances 'Baby' Houseman alongside Patrick Swayze in the 1987 blockbuster, will stand in for panelist Len Goodman next month when he takes a week off.

And Grey is qualified to dish out advice to the celebrity contestants - she won the American version (on which Goodman also serves as a judge) of the show, Dancing With The Stars, in 2010.

Grey says, "I'm delighted to be involved and can't wait to see what the contestants have got.

"I so look forward to making the pilgrimage to the birthplace of the greatest dance show - the mecca of spray tans and tangos - and to sit in for the great and persnickety Len Goodman."