Jennifer Garner To Play A Man In New Gender Bending Movie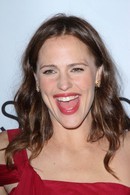 New mom Jennifer Garner is set to trade in stilettos and designer gowns for loafers and slacks as she prepares to play a guy in her new movie.

Life & Style has learned that Jennifer will play a fired corporate executive who switches sexes to win her job back.

A source tells the publication, "She disguises herself as a man. Jen will play Rebecca Merritt, who becomes Greg Johnson."

Shooting on Johnson will begin later this year.