Jennifer Garner Speaks For Matthew McConaughey

Jennifer Garner
got to know
Matthew McConaughey
while they were shooting their latest romantic comedy,
Ghosts of Girlfriends Past
. She got to know him even better doing one weekend of press for the film. After hearing her costar tell his stories to several successive journalist, she decided to start telling them for him.
For example, Garner knows what advice Matthew McConaughey's father gave him about women. "His thing was that he said, 'Look, you know you're coming of an age where you're going to start to have different kinds of feelings towards women, and you're going to have certain desires,'" Garner recalled. "'When you are with a woman, if she even hesitates for a split second, stop. Don't go any further, don't ask, leave it totally alone. Don't go back there tonight. That night, leave absolutely alone. Chances are she's going to want to come back. If she does, say no, and then next time, but absolutely respect the woman, and in doing that, you respect yourself.'"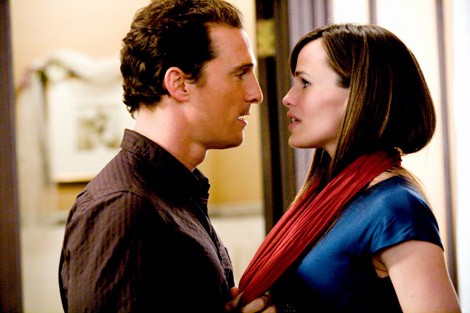 When McConaughey became a father, Garner gave him her own advice for child rearing. "I give him lists all the time. I'm constantly e-mailing him, 'Are you doing this? Please, can I have Camila's direct line because I would love to talk to her about this.'"
Ghosts of Girlfriends Past opens Friday.
Click the pics for Ghosts of Girlfriends Past's gallery:
Story/Interview by
Fred Topel
Starpulse contributing writer
(Starpulse in Hollywood)
: Every week, Hollywood's biggest stars are meeting in the hot spots and Starpulse is there.