Jennifer Garner Producing New 'Geek Comedy'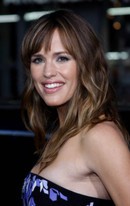 Actress Jennifer Garner is bringing hit non-fiction book "The Geeks Shall Inherit The Earth" to the small screen.

The pregnant Alias star's new show will follow several quirky students through high school and demonstrate how distinct traits can prove valuable in adulthood.

Garner will produce the half-hour comedy program for ABC through her company Vandalia Films.

Easy A writer Bert Royal has been commissioned to script the pilot episode.