Jennifer Connelly Is Unimpressed By Paul Bettany's Good Looks

Paul Bettany
bulked up for the action film
Legion
. He plays the archangel Michael defending humanity against God himself, who decided to unleash an army to destroy his disappointing human creations. When he brought his new muscles home, wife
Jennifer Connelly
was not impressed.
"She hates it," Bettany said while he was previewing Legion at San Diego Comic Con. "She hates it when I get fit, because she says, 'You look like everybody I refused to go out with in college.' So she's never impressed by that sort of thing. She's impressed by me saying that I read Remembrance of Things past.'"
The duo did get to work together in Creation, playing Mr. and Mrs. Charles Darwin. Bettany was not required to kick any ass for that, except for intellectually threatening creationists.
"We don't do that much of [working together]. We spend all of our time together. It's funny, I know it sort of appears that we lead separate lives. One's making one movie, and one's making another. Very rarely are we ever apart for a significant length of time. We have never been apart for more than two weeks. I won't do it. I won't do a job. I start a job with the understanding that I'm going to go home every two weeks or they are going to come out and see me. We work once a year or twice a year, so it's a blessed life in that way. The rest of the year, I'm taking my kids to school every morning, we're eating and I say, 'Why are we arguing about who is going to take the trash out?' It's a peculiarly normal life."
Both actors actually had films at San Diego Comic-Con. Connelly was promoting the animated film
9
in which she provides a voice. Only at the convention did the couple lead separate lives.
"She at these things, and me at these things, are sort of strange creatures. She's been whisked away to other rooms, as I'm being whisked away to other rooms, and occasionally I'll see her. She looks like my wife and she's got a dress on. She is obsessed with our vegetable garden in Vermont, and I have just spend the summer trying to get her out of the vegetable garden and come in the house. And she is like, 'What?' and she's just covered in dirt and now suddenly, there she is, all brushed up with makeup and her hair done. It's like, 'Oh yeah, I forgot that you are also Jennifer Connelly.'"
Legion opens January 22.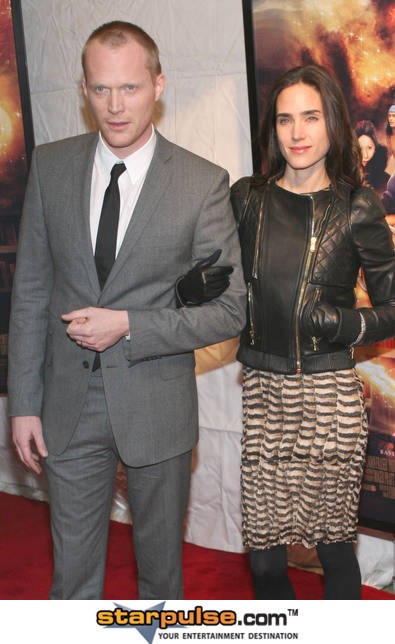 Image © INSERTPHOTOCREDITHERE
Story/Interview by
Fred Topel
Starpulse contributing writer
(Starpulse in Hollywood)
: Every week, Hollywood's biggest stars are meeting in the hot spots and Starpulse is there.