Jennifer Aniston's Engagement Details: From Wedding Plans To Baby Talk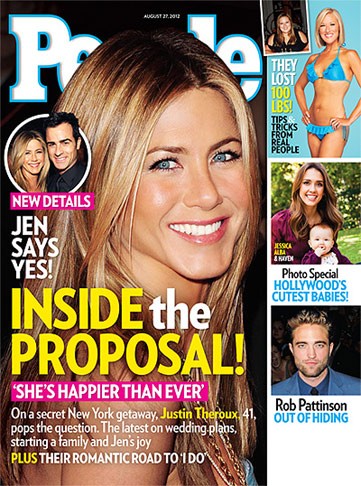 Diners at the high-end, understated Blue Hill restaurant in New York City on Friday, Aug. 10, barely took notice of one of Hollywood's power couples, actress Jennifer Aniston and actor-screenwriter Justin Theroux, quietly celebrating his 41st birthday side by side at an intimate corner table. The two, who had flown into town for the weekend from the Wilmington, N.C. set of Aniston's latest film, We're the Millers, "looked like a long-term couple in love having a romantic dinner," a patron tells PEOPLE. "He looked very relaxed with her," says another diner, Monica Diorello. "They were just enjoying each other's company." This week's issue of PEOPLE features the latest details on how Theroux popped the question to Aniston, 43, during this secret New York getaway, their wedding plans, starting a family, and preparing to live happily ever after.

After a 15-month courtship, the couple soon let the world in on their very, very happy secret. On Aug. 12 Theroux's rep exclusively told PEOPLE that the actor "had an amazing birthday on Friday, receiving an extraordinary gift when his girlfriend, Jennifer Aniston, accepted his proposal of marriage." While there are no details yet on the ring he gave her, "everyone is really excited for them," says a member of their inner circle. "It's amazing to see how happy Justin makes Jen, and everyone was always hoping that he would propose." A Theroux pal adds of the question-popping: "He's been dying to do it. His friends knew it was coming."

After her heart-felt "yes," Aniston and Theroux promptly rang up family and close pals to share their big news – including the actress's father, actor John Aniston, 79, in L.A. "John was one of the first people Jen called," says a source close to him. "He loves how happy Justin makes his daughter, and he more than anyone wants to see her get her happily-ever-after. He said Jen sounded ecstatic and happier than she's ever been." As for the Theroux clan, the actor's sister Elizabeth says Aniston has already won them over. "They're a wonderful, beautiful couple," she says. "We're so happy to welcome her to the family."

With Aniston working in Wilmington and Theroux shuttling between his fiancée's set and L.A. and New York for work, wedding plans might have to wait – or not. "I wouldn't be surprised if they eloped," says his friend. Other pals bet on an intimate, relaxed ceremony, possibly a destination wedding (she does love the beach!). And, after marriage, could children be far behind? "Jen loves babies," adds a source. "They would be great at raising a family together."

More details on Jennifer Aniston & Justin Theroux are in the 8/27/12 issue of PEOPLE, on newsstands Friday, 8/17.

*Also In This Week's 'People'*
Exclusive: On The Campaign Bus With The Romneys & Ryans
Hollywood's Cutest Babies – Exclusive Photos!
Summer Slim-Down Special – How We Lost 100 Lbs!