Jennifer Aniston Would Adopt As A Single Mom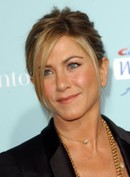 Jennifer Aniston has conceded she would consider adopting a child as a single woman if she failed to find a man to start a family with.
 
The Friends actress, who divorced Brad Pitt in 2005, has dated stars including John Mayer and Vince Vaughn and is now rumored to be in a relationship with Justin Theroux.
She remains childless at the age of 42, but admits she would consider adopting in the future.

Aniston tells Look magazine, "I'd love to have children one day. And it'll happen. I am open to being a single mother, to adopting. I'm just fine with it."

The Hollywood actress was previously forced to deny rumors she was planning to adopt a child back in 2009 after she was spotted visiting an orphanage in Mexico.