Jennifer Aniston Shows Off Her Legs In Short Shorts At 'Call Me Crazy' Premiere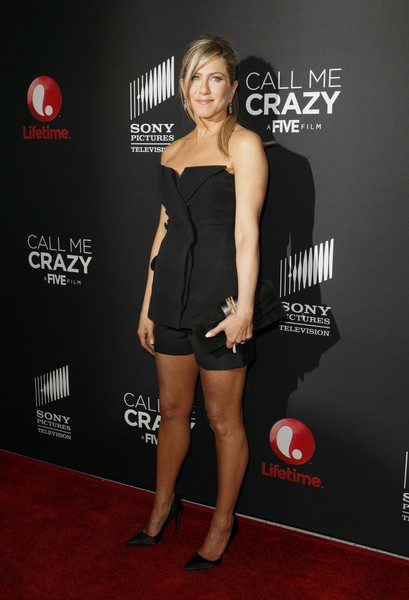 Jennifer Aniston attended the world premiere of the Lifetime original movie event "Call Me Crazy: A Five Film" in Los Angeles on Tuesday.
The 44-year-old actress looked fab in a pair of black shorts and a strapless black, tuxedo-like blouse. She pulled her dark blonde hair into a messy ponytail.
"Call Me Crazy: A Five Film" stars a slew of actresses, including Jennifer Hudson, Melissa Leo, and Chelsea Handler. Laura Dern, Bryce Dallas Howard, Bonnie Hunt, Ashley Judd and Sharon Maguire direct the anthology.
The film includes five shorts centered on mental illnesses, including biopolar disorder, posttraumatic stress disorder and depression. It airs Saturday, April 20, on Lifetime.
Check out more photos of Jennifer...