Jennifer Aniston Rocks A Low-Cut Black Dress (& Kate Beckinsale Sizzles Too)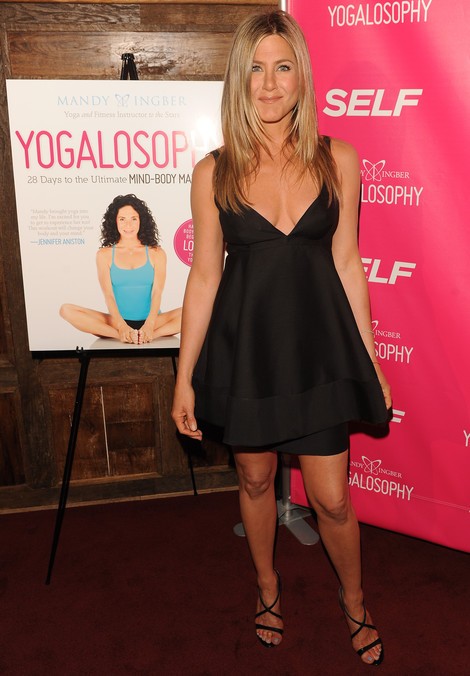 Jennifer Aniston, Kate Beckinsale, and SELF Magazine celebrated Mandy Ingber's new book "Yogalosophy: 28 Days to the Ultimate Mind-Body Makeover" in Los Angeles, Calif., on Tuesday.
Aniston, 44, sizzled in a low-cut black dress with strappy black heels. It's evident that the actress works out frequently to look the way she does. She endorses the book, writing on the cover: "This workout will change your body and your mind."
Beckinsale also attended the event wearing a black, one-shouldered Monique Lhuillier dress with white pointed toe pumps. She wore a Ben-Amun sculptural matte black cuff. She said about "Yogalosophy:" "My husband is very pleased with what it has done for my behind, on a completely shallow note."
If these ladies' figures aren't enough evidence to try yoga, than what is?
Aniston stars in the upcoming film "We're the Millers" about a pot dealer who creates a fake family in order to transport a huge shipment of weed into the United States from Mexico. It hits theaters in August.
Beckinsale recently appeared in "Total Recall," "Underworld: Awakening" and "Contraband."