Jennifer Aniston: 'People Want To See Me Barefoot and Pregnant in the Kitchen'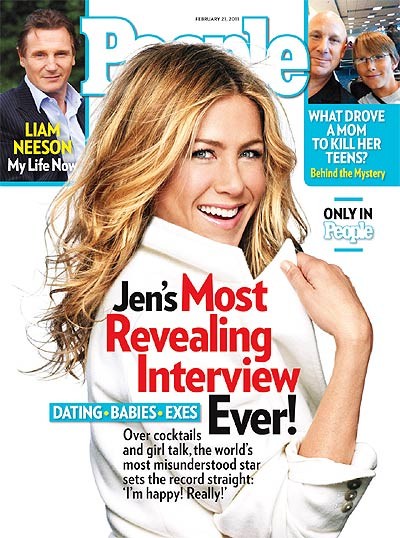 Enough with the rumors already.  In her most revealing interview ever, Jennifer Aniston dishes to PEOPLE magazine in this week's issue on everything from her dating life, the pressure to have kids, and her exes.  Witty and warm, the actress, who turns 42 on February 11th, got remarkably candid as she kicked back with a PEOPLE writer over a "vodka-tini" before a whirlwind week promoting her new comedy Just Go With It.
Topic A:  the boyfriends-and-babies rumor mill.  For starters, she says, she hasn't dated anyone in more than a year and a half.  And she isn't adopting a baby – from Mexico or anywhere else.  "I think people honestly just want to see me as a mom and married and barefoot and pregnant in the kitchen," she says, laughing.  "And I just want to say, 'Everybody, relax!  It's going to happen.'"  Excerpts from Jennifer Aniston's interview with PEOPLE are below.
PEOPLE:  What's the biggest misconception about you?
Aniston:  That I'm unhappy.  I'm really happy.  Really!  My version of happiness is where I'm sitting right now.
PEOPLE:  When you think of past relationships, what's the first though that pops into your head?
Aniston:  First thought?  Awesome…Whether they've lasted this long or that long, they were all great.
PEOPLE:  And you learned from them.
Aniston:  I learned from every single one of them.  I think I'm just sort of a late bloomer.  Whatever is supposed to be my destiny, my life person, I think I just had to go through all these stages first.  There's no part of me that doesn't know that everything is happening the way it's supposed to be happening.
PEOPLE:  Do you let your friends set you up?
Aniston:  No, I'm really picky.  When I feel it, I feel it.  It's rare that it happens.  In the last 10 years, it's happened twice.
PEOPLE:  What about pressure to have kids?
Aniston:  Oh, you mean, "When are you going to do it?"  I know!  I'm like, listen, I know myself at the moment.  I'm not against doing it on my own, if it really led to that place.  I just don't think that's going to be the case.
PEOPLE:  And when it does happen?
Aniston:  I'll be singing from the mountaintop.  Let me have the moment where I get to say, yes, in fact, I'm having a baby.  As opposed to adopting from Mexico.
PEOPLE:  What's been one of your biggest a-ha moments?
Aniston:  This summer I woke up in the middle of the night in London, and I couldn't sleep, and I knew I really needed to simplify my life.  And along with that came the thought, "I should sell my house" [her 9,000 sq.-ft. Beverly Hills home].  I was like, "Wait, I just built it; it was like my heart, my project, my love," but I had the realization that it is just too much for me.  I'm not this person.  I've had my old house [a smaller one in LA] since '94, and I love it.  I might just move back there.  I'm looking for little spots in New York City to go back home…"
Read the complete interview with Jennifer Aniston in the 2/21 issue of PEOPLE, on newsstands Friday, February 11th!
*Also In This Week's 'PEOPLE'*
-Exclusive: Ruth Madoff: "She Knows She Is Wearing A Scarlet Letter," Says A Family Source
-Liam Neeson On His Feminine Side: "I've Gotten Into The Pedicure World"
-What Drove Julie Schenecker To Kill Her Teens? "There Were Multiple Red Flags," Says Source
-Ed Helms: "I Was A Hardcore BMX Racer When I Was A Kid"
Click for more great Jennifer Aniston pictures:
Jennifer Aniston: 'I'm Really Happy. Really!'