Jennifer Aniston Laughs Off Report That She And Justin Theroux Are Secret Nudists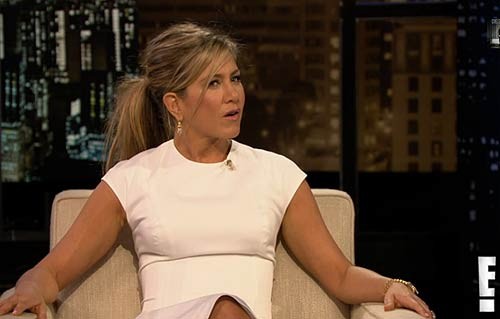 Jennifer Aniston was shocked to find out that she and fiance Justin Theroux are nudists.

The actress was promoting new film We're the Millers on pal Chelsea Handler's talk show Wednesday night when Handler revealed that a recent story in Star magazine revealed that the couple enjoy spending most of their time in the buff.

"Jen has started to embrace her curves at home since longtime lover nudist Justin has persuaded her to join in on the fun," Handler read from the magazine. "She was hesitant at first, and now she finds it extremely liberating, and they spend entired days at home without any clothes on and even cook naked."

"What are you reading!?" Jen asked, and Chelsea held up the magazine.

"Yes... the reliable," she added.

"No, we don't walk around nude, darlin' -- I mean, we do when it's appropriate..." she said, prompting the host to tell her, "I've seen Justin naked, I hope you know that."

Aniston replied, "That's because you barge into places you shouldn't be barging into."

"That's not true, this is absolute BS," Aniston added, getting back to the nudist topic. "...[I]magine us with the chickens... what are we, like collecting eggs naked?"

Check out the hilarious clip below...