Jennifer Aniston & Justin Theroux Photographed Together For First Time Since December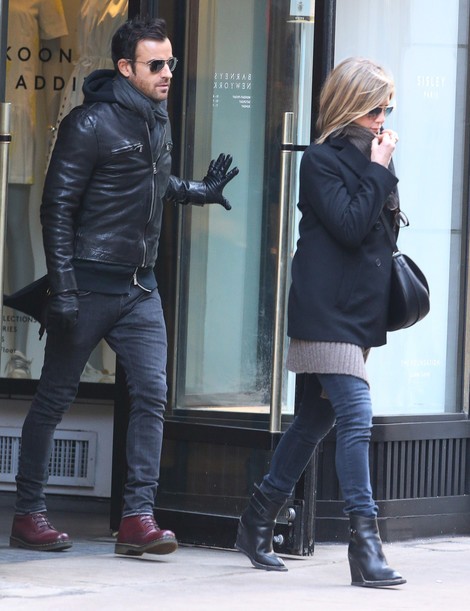 It appears that Jennifer Aniston and Justin Theroux are still together. The couple was spotted out and about in New York city on Monday. It was the first time they were photographed together this year.
Aniston, 45, covered her face with her scarf as Theroux, 42, stepped out in his trademark leather jacket. They were also spotted holding hands while walking in the Upper East Side.
They were last photographed together in December while on vacation in Mexico with celeb pals Courteney Cox and Howard Stern.
The pair got engaged in August 2012, and fans have been wondering when they will actually tie the knot. Toward the end of last year they had been spending a lot of time apart due to work commitments, fueling speculation that they were growing apart.
Theroux also hung out in New York City with Orlando Bloom during Aniston's birthday in February. She celebrated with friends in Los Angeles.
If this photo proves anything, it shows they are doing just fine together.