Jennifer Aniston Is A Bad Girl & Goes Topless In 'Horrible Bosses' (Watch Trailer)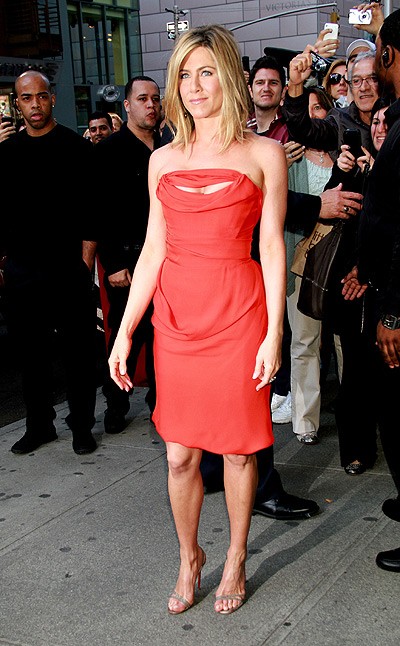 Jennifer Aniston has given up her good-girl image for her latest film, Horrible Bosses, and plays the role of a sex-crazed dentist who ruthlessly harasses her dental assistant, played by It's Always Sunny in Philadelphia's Charlie Day.

America's sweetheart prances around in sexy lingerie & garters in one scene - suggestively eating a banana, licking an ice pop, and then seductively wrapping her lips around a hot dog.
The former Friends star reportedly shot a nude scene for the film as well, but that footage may not make it into the final cut of the movie.

A production assistant tells Us Weekly, "She shot a topless scene, but produces aren't sure if they'll use it."

"They filmed it two ways," the source adds, "[In] one, you see Jen's face and boobs in the same shot. In another, the audience might think it's a body double."

Aniston's dentist is one of three horrible bosses - the other two played by Colin Farrell and Kevin Spacey - who torment three friends, played by Day, Saturday Night Live star Jason Sudeikis and Jason Bateman, respectively.

The three friends - with the help of Jamie Foxx - band together and set a plan in motion to kill off their crazy bosses once and for all, but not everything goes according to plan, as you'll see in the trailer below.
Horrible Bosses is due for release July 8.
Check out the trailer!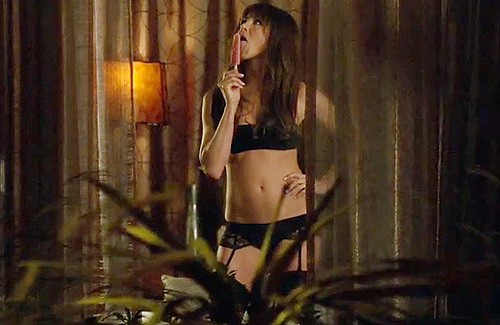 Click for more great Jennifer Aniston pictures: