Jennifer Aniston: 'I'm Not Having Triplets. Not Having Twins. Nor Am I Having One Baby'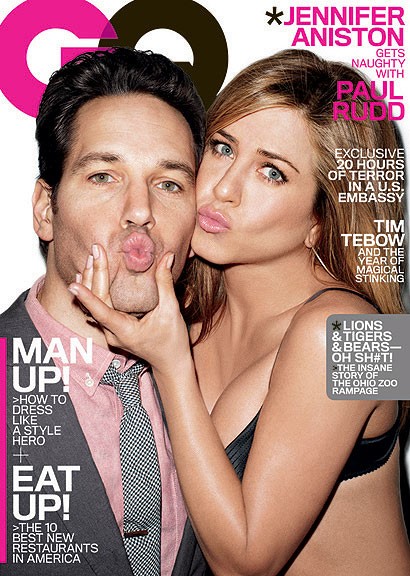 Jennifer Aniston and Paul Rudd star in the upcoming Wanderlust, about an urban couple who find themselves living in a small, free-spirited and hedonistic community after George (Rudd) loses his job and he and wife Linda (Aniston) decide to move down south to live with his brother in Atlanta.

The duo recently sat down with GQ magazine's Brett Martin to discuss thier longtime friendship, what it was like to make-out, and all the pregnancy rumors that plague Aniston.

Jennifer Aniston on pregnancy rumors...
"I'm not having triplets. Not having twins. Nor am I having one baby. [lifts up sweater and gestures to belly; it appears flat] I did not elope... You heard it here. I'm not knocked up now."

Jennifer Aniston & Paul Rudd on whether—being they're such longtime friends—it's weird to kiss on-screen...
 
Jennifer: "Nah. I've kissed him for years."
Paul: "We've made out for decades."

Their new film, Wanderlust, is about a marriage at a turning point. Jennifer Aniston and Paul Rudd on whether any of the issues in the film resonated with them...
Paul: "I think most marriages, mine included, you're constantly tending the garden, constantly working at it."
Jennifer: "It's a growing, literally living thing. There's going to be growing pains, there's going to be awkward moments—your lanky phase, your pimpled phase. I think that's the beauty of a relationship. But if the road starts to…"
Paul: "…diverge…"
Jennifer: "…and one person is growing this way and the other is growing that way… Sometimes that can happen and you can stay together, and sometimes you can't."

Jennifer Aniston & Paul Rudd on their own Wanderlust-like hippie experiences...
 
Jennifer: "In Laurel Canyon, we were very familiar with hippies. I mean, I bathed. But I also wouldn't call myself a Beverly Hills person in any way. I was a more earthy girl for sure."
Paul: "In my freshman year of college, I started growing my hair long. I thought, It'll be kind of cool to be crunchy. But that was pretty short-lived. And that kind of morphed into wearing thrift-store clothes—the next step of hippiedom. I got very poetic about it: 'Clothes should be transitory, man. We should pass them on to others.…' Then somebody older than me said, 'Oh God, I would never go in a thrift store. I don't want to wear pants that somebody else has farted in.' It was like a thunderbolt. I thought, You know what? I don't want to, either! And that was it."

 
Jennifer Aniston on recently turning 40....
"Forty's great!" [GQ: Is it?] "Oh, my God, my thirties blew! Forties are great."


Check out Jennifer Aniston & Paul Rudd's full interview at GQ.com or pick up the March issue, on newsstands nationwide on February 21st.
See more pics from Jen & Paul's shoot at GQ.com! Check out GQ's "The Best of Jen" slideshow here!