Jennifer Aniston: I Wore 3 Pairs Of Underwear For 'We're The Millers' Stripper Scenes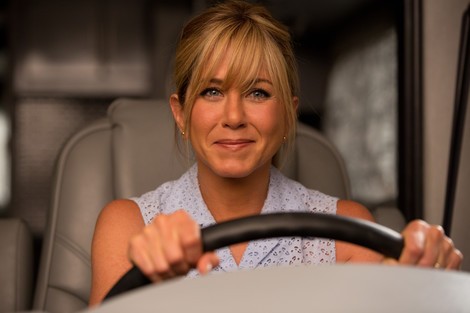 Jennifer Aniston says kale and multiple pairs of underwear helped her strip off just about everything for her sexy scenes in We're the Millers.
In the upcoming comedy, which hits theaters August 7, Aniston plays a stripper asked to pretend she's the wife of a drug dealer (Jason Sudeikis) attempting to smuggle marijuana across the Mexican border.
Of course, Aniston strips down to her undies more than once during the film, including a scene in the trailers wherein she must "prove" she's a stripper while inside a warehouse.
"I did eat that day. I was on a very like, you know, greens and vegetables and lean proteins and kale," she told Access Hollywood about the day she filmed the scene.
"When I really wanted to have a cheat day, I had to have a kale chip," she joked.
But her calories weren't the only thing Aniston made sure to keep in check. She says she had to double and triple her underwear to make sure nothing slipped out. "That was some major strapping and organizing," she says.
Jennifer continued, "I had no taping. I really just doubled my bras. I had a thong and then two pairs of underwear. Why I thought that was going to help protect anything is beyond me. Because, that's just like ridiculous... I was like, 'No, I need three bras! I need three bras because God forbid that one, if it's gonna escape!'"