Jennifer Aniston Has Mini 'Friends' Reunion During Her Co-Hosting Gig On 'The Ellen DeGeneres Show'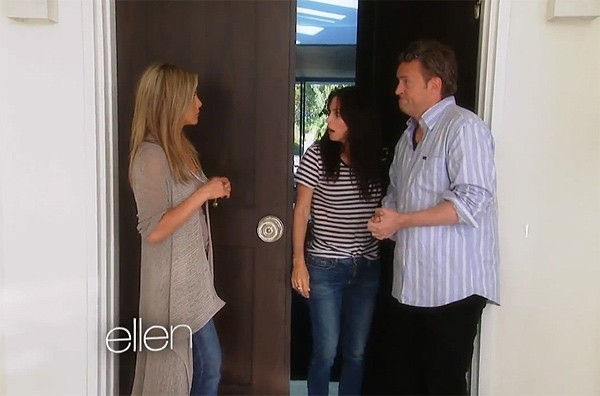 Like most of the world, talk show host Ellen DeGeneres really wants to see a Friends reunion.

The comedienne staged a semi-reunion on her show Wednesday, getting half of the gang back together for a hilarious skit.

Jennifer Aniston, who co-hosted the show with Ellen, Courteney Cox and Matthew Perry were all in on the fun.

Aniston start by showing up at Perry's house to ask him for advice on co-hosting the show, which Perry co-hosted last week, and he tells her it's inappropriate to show up at someone's house at 8:00 a.m.

Aniston references their old show, saying that they "used to walk into each other's apartments all the time -- I mean, we're friends."

"...That was a TV show," Perry replies. "We haven't actually seen each other in a really long time, like, eight years."

"Now David, that is not true!" she says, referencing their co-star David Schwimmer.

"I just don't know as many dumb jokes as you," she adds.

Cox then comes to the door and says, "Hey, what's happening out here," insinuating that she and Perry have something going on. She then refers to Aniston as "Lisa," mixing her up with castmate Lisa Kudrow.

Thing get even crazier as the three look around when dramatic music plays, and then Ellen and wife Portia De Rossi sneak out of Perry's home as the skit, of course, wraps up with a Matt LeBlanc reference.

Check out the hilarious skit below...


Ellen tried to get Jennifer to say she's up for a real "Friends" reunion on the show, but the star brushed it off and said she loved working with "Matty and Court" on their skit, calling it "nostalgic."

"It's a great thing to go back to your family like that," Aniston said on the show. "Also, I know that people will love it."