Jennifer Aniston Flashes Her Nipples During Rehearsal For 'We're The Millers' Stripper Scene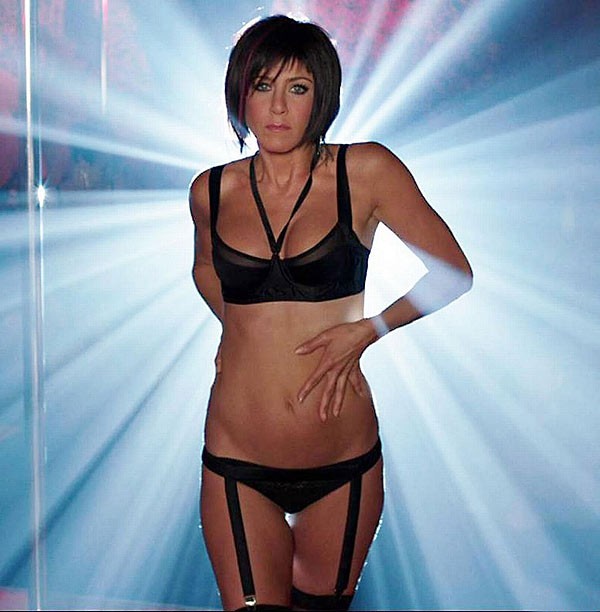 Jennifer Aniston has been sporting a new look of late, revealing a short hairdo on Monday that she had her hairstylist Chris McMillan do last Thursday.

The actress told Vogue magazine that the cut was a "spur-of-the-moment" thing she did after seeing one of the magazine's stylists on TV.

But that's not all the actress is showing off these days. New still images from the set of her recent hit comedy We're the Millers that were cut from the final film hav surfaced, showing Jen in some very (very) revealing lingerie as her stripper character Rose O'Reilly spread like wildfire on Wednesday.

Despite doing everything she could to avoid any malfunctions of the wardrobial kind while filming, the former "Friends" star's nipples can clearly be seen through the black material of her bra and garter set (see the uncensored images at Britain's MailOnline).

"I had no taping. I really just doubled my bras," she told Access Hollywood in July about her preparations for playing a stripper. "I had a thong and then two pairs of underwear.

"Why I thought that was going to help protect anything is beyond me. Because, that's just like ridiculous . . . I was like, 'No, I need three bras! I need three bras because God forbid that one, if it's gonna escape!'"

The still images were shot while she was rehearsing a scene from the film.