Jennifer Aniston, Demi Moore and Alicia Keys Dish On Their Upcoming Lifetime Short Films About Breast Cancer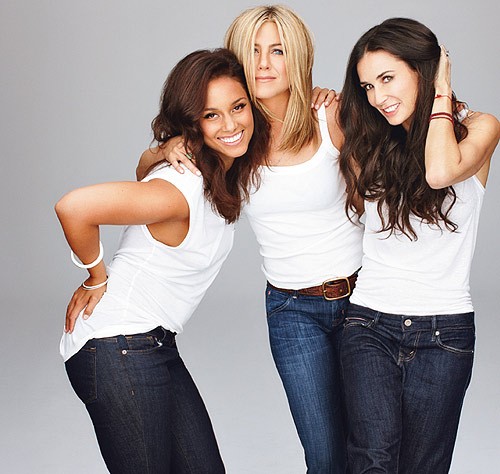 Jennifer Aniston,Demi Moore and Alicia Keys teamed up for a series of short films about women and breast cancer detailing the impact of the disease on women's lives and families. The feature, titled Five, will debut on Lifetime on October 10 at 9pm ET/PT.

The all-star cast includes Patricia Clarkson, Rosario Dawson, Ginnifer Goodwin, Josh Holloway, Jennifer Morrison, Kathy Najimy, Bob Newhart and Jeanne Tripplehorn.

"We were intrigued by the challenge of creating short stories that would defy audiences' expectation of the subject. We wanted to balance the drama with humor and irreverence because that's what's helped our friends who've faced this get through their treatment. We wanted stories that were informative without being heavy-handed. Oh, and they needed to be brilliantly written. Other than that, our goals were small," laughs Aniston.

"I think that so often there is that 'out of sight, out of mind' feeling, like breast cancer is happening to other people, not you," says Moore. "Before this project came up. Even I really didn't want to pay attention. I feel that this came to me to make me pay attention."

"After I read the scripts, I felt like this was something important, and I wanted to be a part of it," Keys shares about her short film Lili. "I chose Lili because she's close to my age and I understood the family dynamic. I had an immediate idea of what I could bring to it."

The three stars also dish on their personal lives, sharing everything from husbands & boyfriends to babies.

And speaking of the latter, Aniston has one thing for you to keep in mind the next time you read that she's expecting a baby.

"Most of it's just bull--t, however entertaining," she says.


Glamour's October issue is available on newsstands nationwide September 6, 2011 and digitally (iPad and Barnes & Noble Nook Color) on August 30, 2011. And check out Jen, Demi & Alicia's full interview and Glamour.com!