Jennifer Aniston Channels Barbra Streisand In 'Harper's Bazaar'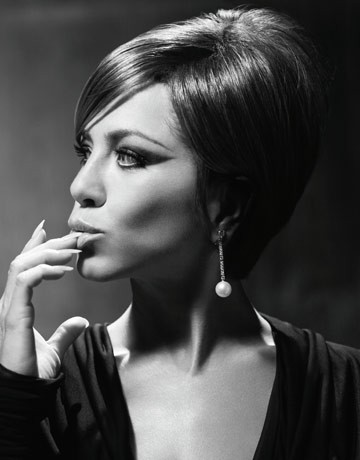 Jennifer Aniston appears in the next issue of Harper's Bazaar dressed up as Funny Girl's Barbra Streisand. She told the mag about how she finally met the legend in New York.
"I've loved her since I was a kid, and all of a sudden there she is, and she's just like someone you've always known," Jennifer says. "You know when you meet people you idolize and then you walk away from the conversation thinking, 'Well, that was a disappointment; they were kinder and more fabulous in my mind'? Well, she was wonderful, and you could talk to her about anything."
Aniston said that her friend and hairstylist Chris McMillan always mentioned she should do a Streisand look. "He is, of course, hair obsessed and I'm a Barbie doll for him. So, whenever we'd see great pictures of Barbra or a movie, he'd be like, 'You have to do an homage to Barbra.'"
You can read more of the story here, see more photos here, and check out the full transformation in next month;s issue of Harper's Bazaar.