Jennifer Aniston And Marlo Thomas Encourage Fans To Give Back During Thanksgiving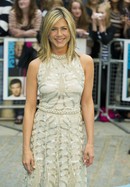 Jennifer Aniston and her actress pal Marlo Thomas are urging fans to give back this Thanksgiving and donate to a leading children's cancer charity.

The two stars have long been supporters of the St. Jude Children's Research Hospital and they have teamed up to remind devotees to keep less fortunate kids in their thoughts as America celebrates the annual holiday on Thursday.

In an open letter on HuffingtonPost.com, Aniston and Thomas write, "If we had to pick one part of this special collaboration that's been the most fulfilling for us, it would have to be our participation in the annual St. Jude Thanks and Giving campaign.

"Created in 2004, Thanks and Giving is an unprecedented coming together of the nation's leading retailers, top media and corporate partners and celebrities - and all in an effort to raise vital funds for St. Jude, which, for nearly half a century, has been saving the lives of children with cancer and other catastrophic diseases.

"The campaign launches Thanksgiving week, and it asks shoppers across the country to 'Give Thanks for the Healthy Kids in your Life, and Give to Those Who Are Not.'"

The actresses add, "To date, the St. Jude Thanks and Giving campaign has raised more than $248,000,000 for the children of St. Jude. That's almost a quarter of a billion dollars. It's been an amazing and heartfelt journey.

"Both of us continue to be inspired by our St. Jude Thanks and Giving work, and we hope to keep it going for many years to come. So this holiday... please join us in making this year's St. Jude Thanks and Giving campaign the best ever."