Jennie Garth Says Peter Facinelli Won't Be Part Of Her New Reality Show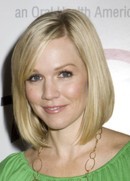 TV star Jennie Garth has ruled out an appearance by her estranged husband on her new farm life reality show, insisting actor Peter Facinelli will not be part of the program.

The actress and the couple's daughters moved out of Hollywood two years ago in preparation for the new show, A Little Bit Country, which features them coming to terms with country life - and she reveals Twilight star Facinelli was never going to be a part of the project.

The couple shocked fans last week by announcing it had split, and now Garth reveals Facinelli will not be part of the new show, even though elements of their split will play into the drama on TV.

Appearing on U.S. news show Access Hollywood Live on Tuesday, the former Beverly Hills, 90210 star was coy about revealing just what parts of her personal problems will feature in the show, but stated, "I hope that people will tune in and find out."

The "country girl" from Illinois also insisted that she was happily married when she signed up for the show and had "no idea" she'd be dealing with a marriage split while filming the series - but she admits farm life is helping her deal with the break-up.

She said, "I grew up on a farm, so I need to get back to my roots for a while."