Jennie Garth & Peter Facinelli Used Therapist To Help Break Split News To Kids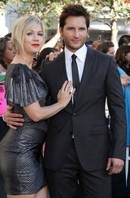 Twilight star Peter Facinelli and his estranged with Jennie Garth called on a therapist to help them break the news of their marriage split to their children.

The couple announced the end of its 11-year marriage earlier this month but actress Garth reveals the pair actually separated several weeks prior and tried to hold it together for the sake of their three kids, Luca, 14, Lola, nine, and Fiona, five.

The former Beverly Hills, 90210 star tells People magazine, "It was never the right time. There were birthday celebrations and Christmas and we always thought, 'Let's keep it together for the kids.' We both saw it unravel and it was painful. I tried everything to save our marriage. I was very resistant. I didn't want it (split) to happen...

"I would take the girls to school, then go back and get into bed and not get up again until it was time to pick them up from school, and I had to pretend everything was fine."

However, the two actors knew they couldn't keep up the act forever, so they turned to a counsellor for guidance in telling the girls.

Tearfully recalling the therapy session, Garth says, "I just held them. They cried. I cried. It was really hard."

And the 39 year old reveals she's still struggling to pick up the pieces.

She continues, "I've never been this stressed in my life... I'm suffering from anxiety now... You get the rug pulled from under you. I have no landscape of what my future will look like, where before I had something that I could count on... I just have to keep my path. I'm slowly finding my voice again."

The former couple is reportedly seeking joint custody of the three kids, and Garth adds, "We make it very clear to them they don't have to choose sides."