Jennie Garth, Peter Facinelli & More Read To Children At Milk & Bookies

On Sunday, February 28, Milk + Bookies hosted their first annual Story Time Celebration at the Skirball Center in Los Angeles. Celebrities came to read books to children, who got to play with famous literary characters like Willy Wonka and The Man With the Yellow Hat.
Marlon Wayans got the all-time classic, Dr. Seuss's Green Eggs and Ham to read. "They asked me what I wanted to read and this one was a childhood favorite," Wayans said. "My mom used to always read [it]. Actually, I learned to read on Dick and Jane books. Run, Dick, run. See Dick run. Stop Jane. Look at mom. None of that makes any literal sense at all but you learn words. What if we talked like that? What a messed up society we'd be. We keep on with these 140 character Twitter texts and we will all talk like that. LOL OMG I am LMAF."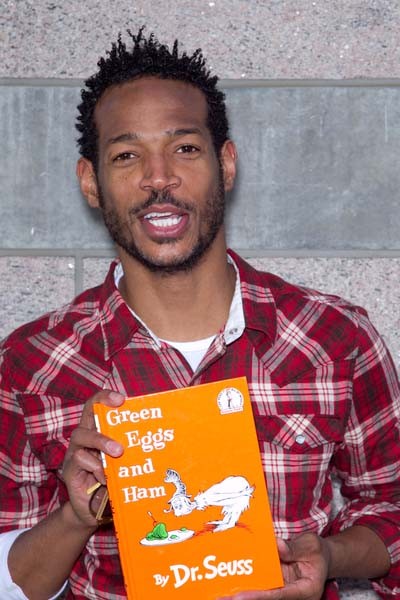 Jennie Garth and Peter Facinelli brought their own kids to the event and touted the books they are reading at home. "I am a big fan of the Tickle Monster book right now," Garth said. "You like to read the joke books to Fiona. She laughs at them."
Her husband Facinelli added, "She loves princess books. Anything princess. I like anything Cat in the Hat."
Facinelli stars in the movie versions of the Twilight books. His kids are only halfway through the franchise. "Well, my 12-year-old has read the first two," Facinelli said. "I've got to spread them out. Let her get old enough to read the other two. I think I would let her read the third one when she hits 13, for sure."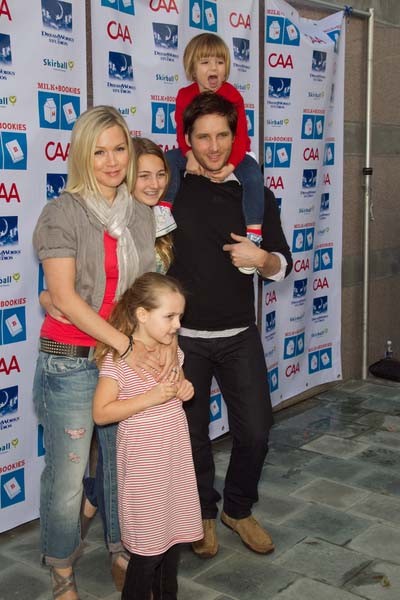 The event was for children, but with the seasoned reporters, some of the talent was R-rated. When I pointed out to Jason Biggs that it might not be appropriate for him, of all people, to read Pickle-Chiffon Pie to children, he realized the connection with American Pie.
"You know, I never even realized that," Biggs said. "Did not even realize that. I need to go back through this book and see if at any point he f***s this Pickle-chiffon pie."
Heroes' Greg Grunberg barely made it to the event, so was about to find out what he'd be reading. He brought his sons too. "We had three baseball games and I was supposed to pop my head in," Grunberg said. "Now, with the rain yesterday the games got cancelled so I'm so happy to be here."
At home with the boys, the Grunberg family reads "Corduroy, love the Corduroy books. Corduroy's awesome." And for the youngest, "The Lion King we're reading right now."
For more information on Milk + Bookies visit www.milkandbookies.org.
Story/Interview by Fred Topel
Starpulse contributing writer
Follow more of Fred Topel's Hollywood observations on Twitter
w2tskydf