Jennette McCurdy's Racy Selfies Could Mean The End Of 'Sam & Cat'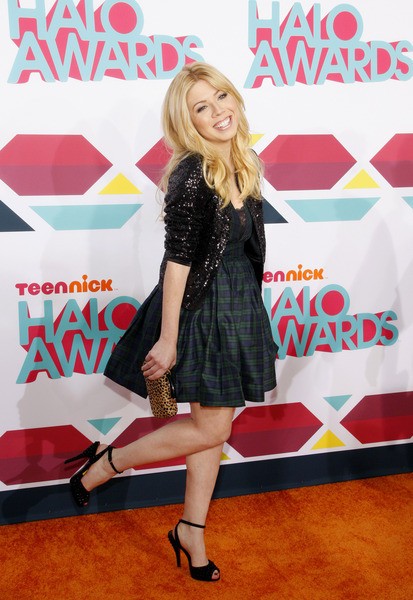 Beware young stars - if your provocative selfies surface online, you could be out of a job. Jennette McCurdy is in hot water after photos she sent of herself in lingerie to a boyfriend went viral, and now it appears that Nickleodeon may be reconsidering renewing her show for a second season over the incident.
"Sam & Cat" is one of the network's most popular series, but executives may be reconsidered greenlighting a second season over the photos, a rumor McCurdy denies. In one of the images, the actress poses on all fours as she stares into the camera.
The actress, 21, skipped Nickelodeon's Kids Choice Awards over the weekend where she was nominated for favorite TV actress.
She explained her absence to fans on Twitter: "A lot of you guys are asking why I didn't attend the KCAs.... I wish I could explain everything as thoroughly as I would like to, but unfortunately a simpler explanation is all I can write. I was put in an uncomfortable, compromising, unfair situation (many of you have guessed what it is) and I had to look out for me.
"I chose to not go because sticking up for what is right and what is fair is what my mom taught me is ALWAYS the most important thing. I want to thank those of you who have reached out with kind words of support, McCurdians and Arianators alike. No matter who or what you support, I believe in supporting fairness first. If you have done that, thank you."
She later added: "My previous tweet has nothing to do with pics leaked.oh you guys lol," followed by, "It has to do with how nickelodeon treated me. That's all. Thanks for the love. <3"
According to Deadline.com, there have been reports of "discord" on the set of "Sam & Cat," and McCurdy sometimes shows up late to work. She's also trying to balance acting with a burgeoning music career.
Nickleodeon issued the statement: "We are wrapping up what was an unusually long production cycle of Sam & Cat, and everyone is understandably tired. We are going into our production hiatus next week which will give everyone on the show a much needed rest."
Meanwhile, McCurdy is also reportedly on the outs with fellow Nickleodeon co-star Ariana Grande.