Jenna Jameson Facing Legal Action From Cinema Owner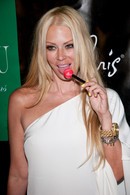 Adult film star Jenna Jameson is facing legal action from a cinema owner after she allegedly pulled out of a promotional appearance in order to attend a posh Hollywood party.

Movie theater owner Ted E.C. Bulthaup III claims the actress was booked to greet fans in Illinois during a screening of her film Zombie Strippers but cancelled the event after falling ill.

However, photographs later surfaced showing Jameson celebrating in Los Angeles when she should have been dealing with a "medical emergency."

After failing to face the claims in a Wheaton court this week a default judgment was made, and now the star has been ordered to pay $50,000 in damages, according to PerezHilton.com.