Jenna Fischer Gives Guys Great Pick Up Advice For Their 'Hall Pass'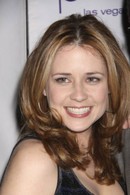 The men may be looking forward to Hall Pass. Owen Wilson and Jason Sudeikis play men who get to take one week of from marriage. Jenna Fischer plays the wife who suggests the experiment for her marriage. She even offered real men tips for where to get the most out of their hall passes.
"Go to Bed Bath & Beyond," she said. "For real, there's a ton of women there. Bed Bath & Beyond, Target. Go where women go. We're all there. Cosmetics counter. The MAC counter at the mall. Whole Foods. The slutty women are at Whole Foods. The progressive liberal ladies."
That's all fun and it's funny in the movie, but to be serious for a moment, Fischer does not support the hall pass. "It's a horrible idea. Are you kidding? It's a wonderful premise for a film. It's a horrible practical idea in your life. Don't do it."
Her character gets the idea from a therapist, but the intention is to make the men appreciate their wives. She expects the men to fail and come back appreciating their wives.
"She was just out of ideas. She's got three kids, she's super tired. I mean, I don't know if any of you have three kids. I'm tired now and I don't have three kids so I can only imagine how tired Maggie is. I certainly don't think that the problems in their marriage were one sided and I think that that's what she realizes in the movie, is that she needed to regain her own personal identity. That's really what she gets out of the hall pass. You see her really transform into maybe a little bit more of the woman that she was when they met. She gets sort of prettier and more vibrant and happier and gets some sun and some sleep and it's transformative for her."
Hall Pass opens Friday.