Jenna Elfman Thinks She's Found A Winner In 'Accidentally on Purpose'

In 1997,
Dharma & Greg
launched
Jenna Elfman
to stardom. A movie career and syndication followed. Now it's time to try again. After some TV guest spots and short-lived projects that didn't quite go all the way, Elfman thinks she's found a winner with the new CBS sitcom Accidentally on Purpose.
"I love comedy so much and I was bound and determined to find another great show," Elfman said. "I count my blessings every day because it's been quite a challenging last four or five years of my life. I have been doing nothing but trying to find another show to do on television that makes me happy, that inspires me, that I feel like I'm in a comedy sandbox doing what I love to do, and I have that with this. So I am honestly so grateful."
Most actors don't land one Dharma & Greg in their career, so going for a double is hard work. The laughter you'll see on TV was earned with blood, sweat and tears, at least metaphorically.
"It's been sort of from one development deal to another and certain attempts and misses here and there, but just nonstop nose to the grindstone. Boy, it was a real test of my endurance, mentally, because it was very challenging. Many times I would go in my backyard, and I would call my agent and go, 'I think I'm just going to move to Montana and quit. I swear. I can't take it.' I get really frustrated but that kind of just goes to show you how hard it is to find great comedies right now. I don't know why. Obviously, if I knew the formula, I would have done it several years ago."
On
Accidentally on Purpose
, Elfman will play a woman trying to live with the father of her baby after a one night stand and unplanned pregnancy. She thinks she's found a winner.
"Finally, I just went, 'Enough of the development. That's not getting me anywhere. I'm going to be a free agent, and I'm just going to read material that a writer has written on their own out of their own inspiration and see if I can find myself a role in something that's just done.' A week later, I read the script."
Accidentally On Purpose is coming to CBS this fall.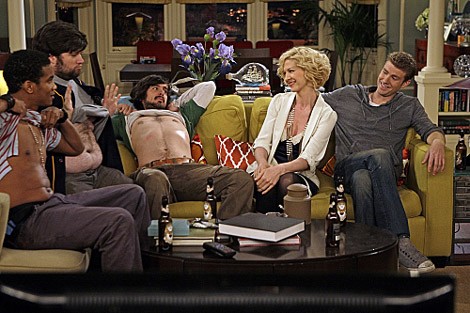 Accidentally on Purpose © CBS Broadcasting
Story/Interview by
Fred Topel
Starpulse contributing writer
(Starpulse in Hollywood)
: Every week, Hollywood's biggest stars are meeting in the hot spots and Starpulse is there.