Jemaine Clement On Why There Won't Be More 'Flight Of The Conchords'

The Flight of the Conchords
have sworn off a third season of their HBO show, to the dismay of their fans (they actually have more than the one played by Kristen Schaal on TV.) It's just too much work for them, says
Jemaine Clement
."
"It's sooo hard to get through one because you have to record two albums worth of material, and write a sitcom at the same time it would take to do an album," Clement said. "The next time, we have to write the songs as well, it's even harder. So, I don't know, it doesn't seem worth it for us, I guess. Because if we do a really great job on the third season, it'd be like, 'The Concords are back on form!'"
It's not totally off the table, but Clement says the duo of he and
Bret McKenzie
are leaning against it. "We probably won't. It would be a hard decision to make, and we haven't totally called it off. We'll be deciding in the next month, but it doesn't seem like it. After the pilot, we couldn't imagine doing a season, and when we got the season, it's was like the worst news we could get. ''We got to make more of these?'
Even the music might take a hiatus. Flight of the Conchords just released another album of music from the show, "I Told You I Was Freaky." "We don't really have long-term plans. It's just whatever the next thing is. We've never been able to answer that question."
The albums finally give fans the chance to own the show's music. They never released tracks to iTunes as the episodes of the show aired. "We tried to do that. There's usually two songs in the show, and we'd tried to put one on. But it was hard to get it ready because there's a different mix for TV, that might not be good enough for stereo."
Glee
is reaping the benefits of doing that now, but the Conchords were in a different situation. "We should have. We thought of it and we tried to do it but it was pretty challenging for us. But I'm sure the guys who wrote the music for Glee aren't also acting in the show and doing the show. We had all these things to do, so it was really difficult."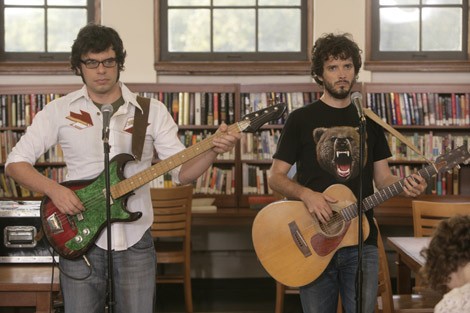 Image © Home Box Office
Story/Interview by
Fred Topel
Starpulse contributing writer
(Starpulse in Hollywood)
: Every week, Hollywood's biggest stars are meeting in the hot spots and Starpulse is there.