Jem Comes 'Down To Earth' On September 16 With New Album

Welsh recording artist
Jem
will release her sophomore album,
Down To Earth
, on September 16 on ATO Records. The follow-up to her acclaimed 2004 debut,
Down To Earth
is a collection of twelve infectious new songs that feature Jem's ethereal vocals, hip-shaking beats, bright melodies and introspective lyrics. "It's Amazing," the first single off the album, is featured on the original soundtrack to the highly anticipated feature film version of the beloved HBO television series
Sex And The City
.
Jem co-wrote
Down To Earth
with cohorts old and new including hip-hop producer Jeff Bass, one of the two brothers credited with discovering
Eminem
, and producer Lester Mendez (
Shakira
,
Santana
and
Nelly Furtado
). The album reflects the singer/songwriters far-ranging influences including Brazilian percussion on the title track, Detroit Gospel choirs, a
Stevie Wonder
inspired 'Crazy' complete with funky banjo, and the tempestuous Latin-flavored track "I Want You To..." a collaboration originally earmarked for a solo album by turntable whiz
Cut Chemist
(
Ozomatli
,
Jurassic 5
).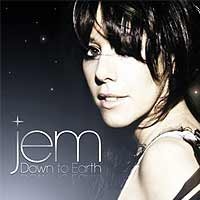 On the blistering dance-pop tune "Aciiid!" Jem worked with Greg Kurstin (
Kylie Minogue
,
Lily Allen
,
The Bird And The Bee
) and sings in Japanese, where she enlisted the help of two Japanese-American music fans to tutor her in the phonetic pronunciation. The album also includes a moving collaboration with South African singer-songwriter and poet-activist Vusi Mahlasela on the track "You Will Make It" recalling 9/11, and dealing with the suffering of loss.
Taste-maker Nic Harcourt, Music Director of KCRW 89.9 FM Los Angeles, was one of her earliest supporters and thanks to exposure via TV shows including
The O.C.
,
Grey's Anatomy
,
Desperate Housewives
,
CSI Miami
, and
Six Feet Under
, literally millions of listeners worldwide have heard her music.
"On top of the World"
(mp3)
Track listing for Jem's
Down To Earth
:
1) Down To Earth
2) Crazy
3) I Want You To...
4) It's Amazing
5) Keep On Walking
6) You Will Make It
7) I Always Knew
8) Got It Good
9) Aciiid!
10) How Would You Like It
11) And So I Pray
12) On Top Of The World