Jeff Hephner Tells Why Season 2 of 'Boss' Is Can't Miss TV on DVD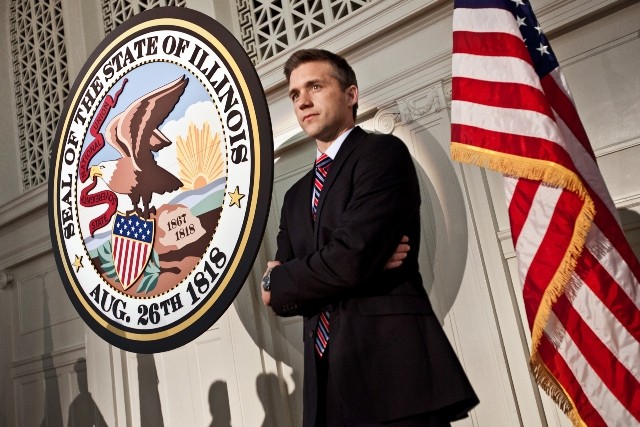 Season two of Starz' razor-sharp political drama Boss is now available on Blu-Ray and DVD. To mark the occasion, BFTV checked in with the charming and talented Jeff Hephner, who played ambitious politico Ben Zajac on the award-winning series. Jeff told us what stands out to him about season two - and reflected on the show's unfortunate cancellation afterward.
"The show took a big turn," he said of the transition between seasons. "We had a sweeping epic going, and [in] season two, I think we get a little more into the emotional development of all of the characters. You start to get a little closer look into the inside of their emotional well-being. You start to get onboard a little more. The scope of it gets a little narrowed, and for all the right reasons."
When it comes to Zajac specifically, he begins the cycle in a pretty bad place. "After we leave him in season one he's on his knees. He's been fairly humbled," Jeff explained, describing his character's journey in the second season as, "It's a question of how he's going to rise up - if he's going to take a few chances of stepping up and being a big boy."
In particular, fans should look out for "Consequence," the eighth episode of the season. "There's a culmination of things that happens," he continued. "A lot of things come to fruition, and I loved it."
Jeff is a significant reason why Boss is a show worth loving. Here's an actor who has such a natural likeability that even when Zajac does things you disagree with, you can't entirely hate him. When he gets knocked down, you want him to get back up again. Especially in the murky political world that the show lives in, it's not easy for an actor to create a character with that kind of appeal. But Jeff has done that - possibly because it's always apparent how much he loves playing the part.
He had the ability to start looking ahead when most actors are on pins and needles. Boss was a show in a unique situation - it was renewed by Starz for its second season before its first episode ever aired, meaning that the players didn't have to deal with the uncertainty that plagues most new series. "That was a luxury," Jeff said, "to really kind of not worry, and think about this character and open yourself up to what's coming. And then just thinking about getting back to Chicago and getting back into that world was really relaxing."
Unfortunately, the cast and crew didn't get the same advance notice when Starz decided not to renew Boss for a third season. Asked if he had any idea the show was on its way out, Jeff revealed, "No, not at all. Especially when Kelsey [Grammer] won the Golden Globe for season one, we thought 'Okay, that's going to give us a little leeway to get to season three.' We thought that would've sparked a little more interest, a little more awareness. We anticipated a nice little build in the audience. We really thought that because creatively, the show was so well received, that the show was going to get to season three.
"Unfortunately, things like this happen. It's a blessing that it even got on in the first place."
That doesn't mean that breaking up was easy to do. "There was a moment where I was so caught off guard. You're like, 'We just can't walk away from this,'" he continued, adding that there are still talks about a film to wrap up the series. "I was chomping at the bit. The way we leave Zajac at the end of season two, there was so much. All the characters for that matter, there was so far to go. We had just set the table for some serious conflict."
Rarely do you hear an actor so passionate about his work or so invested in his character, but Jeff is one of those actors. Not only does he enjoy his job, but he just loves television. As we found out when talking to Jeff before the first season of Boss, he's a self-described "TV junkie." What's he watching now? "I just went through the first season of Veep," he told us. "I'm starting to go back and look at some of these comedic actors that I find amazing, Julia Louis-Dreyfus being one of them - and the entire cast of Arrested Development, Tony Hale especially. When you watch the first two seasons of Arrested Development, you're watching some of the best network TV ever."
He has that same enthusiasm for his own show. When he talks about what he'll take away from working on Boss, it makes you want to fall in love with it, too. "It was quite a roller coaster," he said of the experience. "I've been on shows where they start and you're like 'This is not going to work,' but you start to see these pieces coming together. When you can feel this has potential to really stretch itself out into something really fascinating and it's cut short, it's a bizarre thing.
"Kathleen Robertson was doing some of the best work I think any woman on TV's doing right now," he continued, praising his fellow cast members. "To work with Kelsey, Martin Donovan and Kathleen Robertson, you learn so much. To not to get to put that to practice, especially to put it to use for Zajac, it's hard. I'm going to have to put all these tools to good use somewhere else."
He's not quite sure where that somewhere else will be yet, in part because Boss was such a memorable project for him. "After you do somethng like Boss, it's hard to go and do something after that," Jeff said. "As an actor I grew so much, and I knew I was part of something really special."
You can get your copy of Boss on Blu-Ray and DVD today. You can also keep up with Jeff on Twitter (@HephnerJeff).
(c)2013 Brittany Frederick. Appears at Starpulse with permission. All rights reserved. No reproduction permitted. Visit my official website and follow me on Twitter at @tvbrittanyf.