Jeff Bridges To Star As 'The Giver'?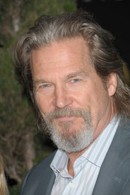 Jeff Bridges is planning to adapt classic sci-fi book The Giver for the big screen - and he wants to star in the title role.

The Big Lebowski actor has purchased the film rights to Lois Lowry's young adult novel, which his daughter introduced to him after she read it in high school.
 
The Giver tells the story of a futuristic society where all human memories have been wiped to eliminate pain and sadness. A 12-year-old boy is selected to bear his community's entire collection of emotions and receives them from the ageing Giver.

Bridges, who has been working on the project for more than a decade, initially wanted to recruit his dad Lloyd for the part of the wise elder.

He tells Variety.com, "I originally thought of the role of the Giver as a vehicle for my father, the late Lloyd Bridges; however, at 61 years old, I feel the time is right for me to do it."