Jeff Bridges Debuts New Music At Starry Troubadour Show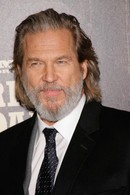 True Grit star Jeff Bridges packed Los Angeles' fabled Troubadour venue with movie stars last week as he debuted new material from his upcoming studio album.

Pierce Brosnan, Ryan Reynolds and his Tron Legacy co-star Olivia Wilde were among the famous faces in the crowd for the gig.

The highlight of the set came when the Oscar winner dedicated a cover of Bob Dylan's "The Man In Me" to his wife.

Bridges' new album will be released in August.