Jeff Beck To Be Crowned Classic Rock's Living Legend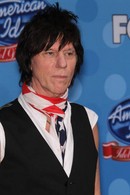 Guitar great Jeff Beck is set to be honored as a living legend by editors at Classic Rock magazine.

The music icon, a former member of British super-group the Yardbirds, will follow in the footsteps of previous winners Iggy Pop and Rush when the Classic Rock Roll of Honor ceremony takes place in London later this year.

A flattered Beck tells BBC News he feels "very honored," adding, "I'm really a backroom boy, not a mainstream rock act. It means someone is out there looking at what I'm doing, which is really nice."

Beck will also be hoping to take home another award - he's been nominated for Album of the Year for his live project Rock 'n' Roll Party and will go up against Foo Fighters (Wasting Light), Journey (Eclipse) and Motorhead (The World Is Yours).

The Classic Rock Roll of Honor event will be hosted by KISS star Gene Simmons on November 9th.