Jean-Claude Van Damme Is Back And He's Bad In 'Expendables 2'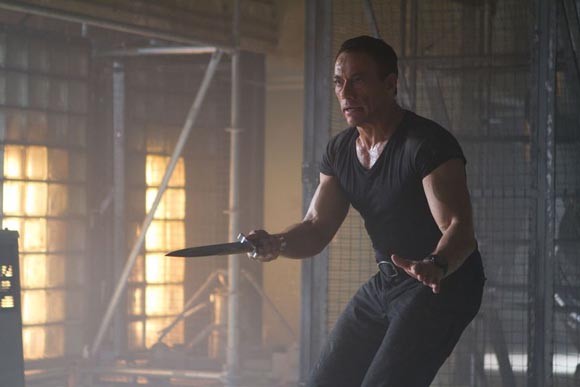 Jean-Claude Van Damme makes his big screen comeback in The Expendables 2. The heroic star of '80s and '90s films like Bloodsport, Kickboxer and Timecop plays the villain in Sylvester Stallone's ensemble of action stars. Van Damme says this was his own choice.
"When I was called for Expendables 2, I wanted to play the bad guy so that I had more dimension and I think more exposure," Van Damme said, adding, "But then it's over because Expendables 3, I will not be in it."
It's been over 20 years since Van Damme played villains in No Retreat, No Surrender and Black Eagle. His fans will be happy to see him in his most threatening role yet, and viewers who have lost track of Van Damme over the years will be surprised.
"A villain can be so special, original," Van Damme said. "I said to Stallone, 'How do you want me as a villain? Do you want me, like, an extravagant villain, or do you want a guy who's completely and serious and believes in what he's doing and why he's doing that?' Then I said, 'By the way, why am I doing this?' and he said, 'Because you love money.' I said, 'Fine.' So, I became that type of villain. When I was locking with that type of character, being that very truthful villain, I felt good."
Van Damme's character, Jean Vilain, is flamboyant, but very much a deadly threat. "It's not cartoonish, but it has, like, one fifth of a cartoonish feeling in a sense. Like, life can be cartoonish, but I was very serious, even in making those faces when they were talking to me. I was really into it. Sly was the same. He made me feel this way. When I saw all those cameras around me, I said, 'Who are those bunch of clowns looking at us with those lenses and the lights and everything?' I was really into the atmosphere of Expendables."
Stallone's direction, as the screenwriter and mastermind of Expendables, was simply a greedy villain, but Van Damme did a little more backstory. "Even if you don't explain to the audience who my papa is and who my mama is, in the movie as a character what happened to me, why I'm a bad guy, why I love money, why this and why that, you have to ask those questions of yourself and you prepare that for a couple of weeks until you get it, until it clicks. Basically, you have to tell the truth and on every take."
The Expendables 2 opens Friday.