JD & The Straight Shot Rock Connecticut Oakdale Theater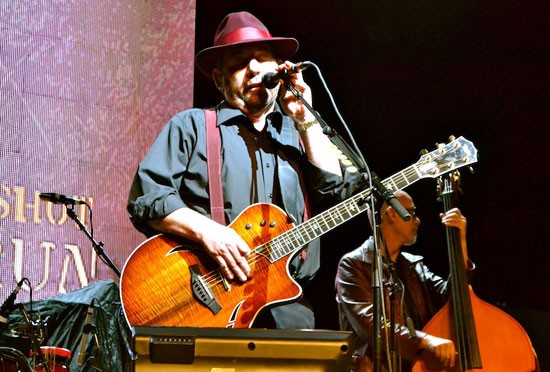 You wouldn't know it by looking at him, but the JD & The Straight Shot frontman is anything but your average musician. The man who rocks out playing a lively mix of Cajun and Blues has turned his hobby into a second career.
Jim Dolan, who formed the band 13 years ago, has a corporate day job. He's president and CEO of Cablevision and executive chairman of Madison Square Garden, Inc. where he also oversees New York sports teams such as the Knicks and the Rangers.
He also belts out a mighty fine tune.
At the Connecticut Oakdale Theater earlier this week, Dolan and his band got the audience thumping (who were eagerly waiting for the headlining act ZZ Top), with their first song, "Float Away." 
The band followed up with "Voodoo Stew," with lyrics such as, "Ruby lips, shake those hips...a twinkle in her eye," and a fun-paced rhythm played out by an accordion, guitars, maracas, and a big drum beat.
Next on the set list was a cover by the band Little Feat, "Let It Roll," a rocking rendition that featured a stand-up bass, washboard and violin solo with the chorus, "Ooo she's like a smooth stretch of highway/Ooo she's like a cool Summer breeze."
Dolan told the audience the band loved playing some classic tunes, including the psychedelic cover from It's A Beautiful Day called "White Bird."
Next was Dolan's favorite song to perform, "Don't Waste My Time." His low, deep gravely voice belted out lines including, "You're just passing through, someone I once knew, returning to the scene of the crime."
JD & The Straight Shot also performed an upbeat rendition of Bruce Springsteen's "Pink Cadillac," as well as the title song from their latest album, "Midnight Run."
The band has also opened for groups such as The Eagles and has been covered by Willie Nelson.