JD & The Straight Shot Frontman Jim Dolan Talks About His Inspirations & Influences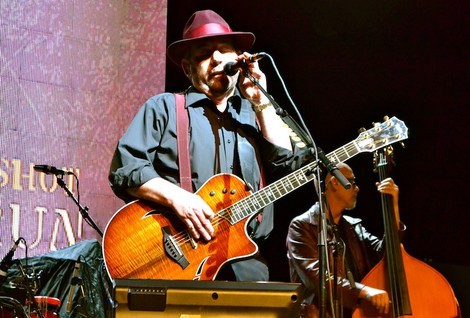 The official reopening of the LA Forum will occur Jan. 15, and the first three nights will feature the Eagles and opening band JD & The Straight Shot.
The forum is billed as the largest arena in the United States dedicated to music and live entertainment, accommodating 17,500 spectators.
Jim Dolan, frontman of JD & The Straight Shot, knows a little bit about operating a large concert space. He's not only a musician - his day job is CEO of Cablevision and executive chairman of Madison Square Garden, Inc.
Starpulse recently chatted with Dolan, who manages to work and play hard as both a business executive and singer/songwriter.
1) How do you balance your day job with performing?
Music brings the balance to my busy life… This is the only thing in my life, really, where it's my hands, my voice—just me. There's nothing between me and the product. That aspect of it is very appealing to me because I don't have it anywhere else in my life. Time management is also a big deal for me. I have a great band with great players in it and they utilize my time really well. We step into the studio, they're prepared.
2) What's on your iPod?

I listen to a whole collection of music. Lots of blues, some old stuff, and some new artists. I'm always listening for new sounds.
3) Besides the blues, do you like to play other genres of music? Who are your biggest influences?
I love classic rock and New Orleans-inspired music. My biggest influences are Eric Clapton and Allman Brothers (specifically Gregg Allman).
4) What is your creative process? What inspires you to write?

All kinds of things can inspire me to write. The feeling of whatever that inspiration or moment is can dictate the lyric, melody, and overall feel of a song. Some song ideas come easily, yet I labor at others for months. It's all about trying to find the right lyric, right melody, or right rhythm. Sometimes lyrics come before the melody, while sometimes the melody comes before lyrics. The process is unpredictable.