Jazz Appreciation Month: An Interview With Bobby Caldwell
Bobby Caldwell has been a successful singer, songwriter and musician since the late 1960's - not only well before I was born, but before my parents had even met. I mention that because his music is part of my family history. My father introduced my mother to his music, and in turn, my parents took me to one of his concerts when I was five. His music has been a part of my life ever since, and he remains one of my favorite artists. Not to mention that he gave one of my other lifelong favorite artists, Dave Koz, the start to his long career. Bobby's touched the lives of a whole lot of people.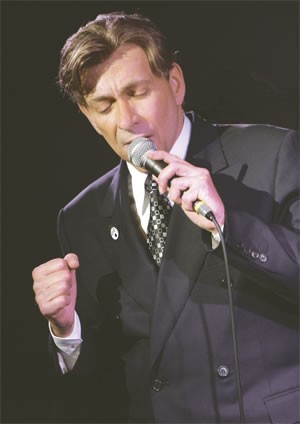 The R&B/smooth jazz legend (three of his songs have BMI awards for at least a million broadcast performances) sat down with me recently to chat about his career, what he's learned over those two-plus decades of being in the business, and where he's headed next.
What amazes me most about your career is that you've appealed to so many people for so long. I'm not the only person whose entire family has embraced your music, and there are fans who have seen you live dozens of times over the years. If you had to guess, what's the secret to your lasting success?
It's a little unusal. It wasn't necessarily by design. A lot of it because of what you just cited. My original audience passing on to their parents and their children the same music. I never stopped making it, so it's carried on to this day.
Everyone knows your 1978 hit "What You Won't Do For Love." Dozens of people have either covered or sampled it. Thirty-two years later, it's still your most well-known song. Can you talk about the song and its legacy?
What I think is the most interesting thing about the song is it was on my debut album in 1978. It became a hit in 1979. I was given the opportunity to make a record after an exhaustive search and they gave me basically carte blanche, which "What You Won't Do For Love" was not part of. The label liked the album but didn't feel they had their lead single. So after almost a year and a half of trying to make my first album, to quickly satisfy the label, I wrote this literally overnight.
A lot of great artists have either covered your songs or performed songs you've written for them - Aretha Franklin ("What You Won't Do For Love"), Al Jarreau ("All Or Nothing At All"), Dave Koz ("Emily"), Brenda Russell ("How Does Love Go Wrong"). How has that been for you? Is there anyone you'd like to work with?
The truth is anybody can cut your material once it's been released. That said, I've never looked at this any other way than the highest form of flattery. It's all flattering. Two people in particular that I've been longtime fans of - one would be Bonnie Raitt, the other Michael McDonald.
Vanessa Williams covered "My Flame," and then you also performed "Baby, It's Cold Outside" with her on your 1998 album Timeline: The Anthology. Were those two things related or coincidental?
You know, if I'm not mistaken, I think "Baby, It's Cold Outside" came first. And then she went on to pick that song.
Your website also says that one of my favorite bands, Barenaked Ladies, covered "Next Time I Fall" in 2003. Dare I ask?
That's true. I don't think I ever actually heard it. I wouldn't have thought that Tupac Shakur and Notorious B.I.G. would have done my material, but they did.
My favorite song of yours is "Solid Ground," from 1991's Stuck On You, so I have to ask you how that song came to be.
That song actually got a couple of incarnations of lyrics before it actually ended up being called "Solid Ground." I stumbled around for awhile looking for a common denominator. Once I came across that, then the lyrics came together.
You're now hosting a morning-drive radio show on Timeless Cool. A few musicians have radio shows, like Jim Brickman, Dave Koz and Brian Culbertson. What made you interested in doing so?
The people that had come to me with this proposal - a couple of guys that I'd known for years in radio. One of them was the GM of a smooth jazz station in Minneapolis. They were big crusaders of mine, so much so that I was able to get into Minneapolis and do really nice theaters for years. I jumped at the chance, knowing them like I did, and that it was a very eclectic-type playlist. That was attractive. I've been doing it a couple of months now, but as of last week they've untied my hands a little bit more and are giving me a special timeslot every Saturday night from 6 PM to midnight, where I'm going to be introducing new material, playing some interviews.
It's been enjoyable. It sharpens my skills as a moderator. I can bring that kind of a rapport to the stage as well, and I do bring a lot of what I've developed to the radio show. I've got a lot to look forward to and a lot of liberties being afforded me.
Ever tempted to play your own music on the show?
They allow me to do that.
You also ventured into acting when you portrayed Frank Sinatra in a Vegas stage musical ten years ago. How was that experience? Was it something you'd do again?
That was great because I grew up in a show business family. I was always surrounded as a child by the music of Sinatra and Ella Fitzgerald. We were like Sinatra headquarters. I was influenced at a younger age and throughout my career by Frank and loving virtually everything he did. When I had the opportunity to relive this era, which was actually a transcription of the show they used to do at the old Sands hotel, I thought, "This is going to be stunning."  It wasn't difficult because I knew Frank like the back of my hand.
Over the last few years, you've made a transition from your own work, to moving into covers of standards, like Bobby Darin and Sinatra. Is there any particular reason for the change? Will we see you go back to more modern music in the future?
A lot of artists who do this kind of music will tell you the same thing. The country and the world gets to relive an age of songwriting. I continue to do it. To me, America's biggest legacy is the classics.
As big as you are in the States, you're even bigger in Japan. For those of us not familiar with that music scene, what's that experience like for you?
I was in awe. Being able to go to Japan and be welcomed with superstar status was mindboggling. The reason it continues is the Japanese audience. Once they embrace an artist, they're really loyal, and I've tried my best to be loyal to them.
I've been touring for 33 years and I've gone from theaters, I've been doing clubs. From my perspective, even when I've been doing clubs, the trade-off is that it's a great intimate situation. I think it makes for a better show. As I've gotten comfortable with that over the years, I think people see me as being more accessible and it's just a lot more fun than a big stage. I like playing the clubs a lot more.
Do you have any new projects in the works?
I do, the details of which I can't completely share, but it does involve another orchestral album and could possibly be under the banner of a major motion picture. I can tell you that the motion picture's about Marilyn Monroe.
What artists or albums are you listening to right now?
I've got three daughters, so my wife and I hear a lot of what they listen to by default. When it comes down to just myself, my wife and maybe a few friends, we're more than likely listening to Earth, Wind and Fire, Steely Dan, Beatles. Our kids have embraced what we've been listening to.
My thanks to Bobby Caldwell for this interview. To check out his music and current projects, visit his official site.